Although I have a passion for blogging, I've also made a few contributions to the world of books. Don't be looking for them on the New York Times Bestseller List anytime soon.
Cageball, Poker, and the Atomic Wedgie: And other tales of Catholic school mischief takes you back to that simpler time in life; a time before Twitter and Facebook; before American Idol, Justin Bieber, the Kardashians, or any other modern-day pop-culture Goliath whose name is good for SEO.; a time when SPAM was just canned ham, and vampires were still ugly, frightening monsters, not dreamy heartthrobs with six-pack abs.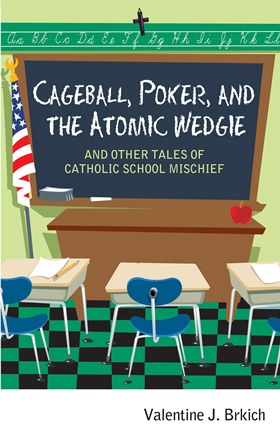 Follow me and my friends through the hallowed halls of S.S.P.P. as we attempt to pass the time by relentlessly tormenting our teachers and by doing anything but actually pay attention in class.
"It's a rip-roaringly funny collection of mischievous mayhem!" – Some guy I gave $20 bucks.
* Newly revised eBook – NOW WITH EVEN FEWER TYPOS! *
_____
Bridgewater: A Narrative History of a Pennsylvania River Town is the story of Bridgewater, a small western Pennsylvania town located along the shores of the Beaver River.
From its beginnings in pioneer times, to the booming canal years, to the years of decline, near extinction, and rebirth, Bridgewater has seen it all. Surviving flood after devastating flood, the loss of industry, and the indiscriminate wrecking ball of so-called progress, Bridgewater today is redefining itself as a destination for recreation and entertainment. The story of this tiny river town is one of ambition, ingenuity, and longevity, and its people are defined by their strong character, determination, and neighborly way of life.
I have always had a close connection with Bridgewater. I spent a lot of my youth here visiting my grandparents, and my wife and I made Bridgewater our first home, living in the same house where my dad grew up. Throughout the book, I weave my own family's history into that of the town's, as I touch on the meaning of place in one's life. The result is a personal, narrative history of the town through the eyes of one of its own.
To read an excerpt, click here.
To order you copy, send a check for $17.00 to: 431 Beaver Street, Beaver, PA 15009
We also accept PayPal:
Also available as an eBook through Amazon.com.
_____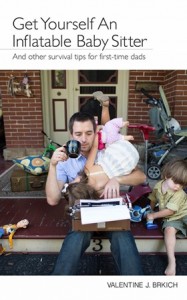 Get Yourself An Inflatable Baby Sitter – And other survival tips for first-time dads
Like most males of the species, Valentine J. Brkich had no idea what he was getting into when he and his wife decided to have children. Now, after years of living through the sleep deprivation, exploding diapers, temper tantrums, and all the other fun that comes with being a parent, Val has put together a handy survival guide for new dads in order to help them adjust to their new life. Get Yourself An Inflatable Baby Sitter is a brief yet thorough collection of fatherly advice from someone who's survived it (so far). Topics include: "It's A Girl! Good Luck With That", "Poop – It's Not So Bad", and "Embrace the Mess – You're A Hoarder Now". Through brutal (sometimes frightening) honesty, Val gives new dads an inside look at what they can expect in the coming years. The ebook also serves as an effective method of birth control.
_____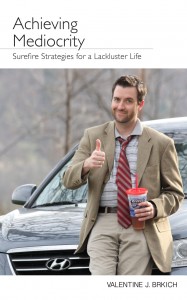 Achieving Mediocrity – Surefire Strategies for a Lackluster Life (Kindle)
(EPUB version for other e-readers)
There are dozens of books out there on success. But very few on just being average. In 39 years, Valentine J. Brkich has achieved a level of mediocrity rarely seen. Now he is sharing his own secrets for a lackluster life, based on all the wrong decisions he's made in his. And he does it with a level of honesty that's, quite honestly, frightening.