October Mindfulness Challenge – Day 17 – Gettin' My Hygge On
by
Today it was windy and chilly enough in The Beav to don my winter coat as I strolled over to the library to do some work. And I loved it.
In fact, the older I get, the more I'm realizing that I'm a cold-weather person. I like wearing pants and warm sweaters and cozying up to a nice warm fire, book in hand, and a piping hot mug of tea (or a glass of red wine) nearby.
Then again, maybe I'm just lazy. In the summer, when it's warm outside and the days are long, I always feel pressured to be doing something. But as soon as it starts getting cold out and darker earlier in the day, I don't feel as bad heading indoors to do nothing before hitting the sack early. Either I'm lazy or old. Or both.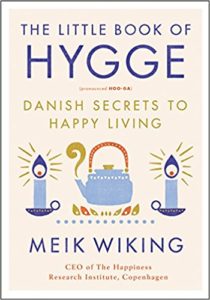 This year I really want to try to embrace the winter and fend off the cabin fever that usually strikes right around February. With that in mind, recently I went to the library and borrowed The Little Book of Hygge: Danish Secrets to Happy Living by Meik Wiking. The Danes, you see, are considered to be the happiest people in the world, even though they basically live a hop, skip, and a jump from the Arctic Circle.
How can this be? Well, a big part of it is their practice of Hygge (pronounced "hoo-gah"). Simply put, Hygge means getting cozy and warm, and enjoying the simple pleasures of life with good friends. Sitting by a warm fire. Enjoying a cup of tea. Taking a nice long nap (my favorite). And when the weather outside is frightful, the Danes turn to Hygge to get through the long, cold, and dark Danish winter.
The key to Hygge seems to be warmth, which is a challenge for me, since I live in an 1889 house with no insulation. (Brrr!) Usually I spend November through March in a constant state of shivering. It's not uncommon to find me wearing a tossle cap, gloves, and multiple sweaters indoors during the frigid Western PA months. I already purchased a brand-new electric heater to help keep me from freezing to death as I sit at my computer and write. If that doesn't work, I may just have to put on my super-warm Bigfoot costume that my Floridian brother-in-law sent me as a joke. I have no shame when it comes to staying warm.
Tonight Boogieface and The Animal had cross country practice in the cemetery. (Here in Beaver, we use our graveyard not just to bury the dead but also to get in a good workout. I guess the tombstones are good motivation.) It was cold and windy out, and by the time they finished it was just about dark. When we got home, we fired up the gas logs as the kids had some warm milk and yours truly poured a nice glass of bourbon. Then we all cozied up on the couch to watch our favorite show, "Survivor." (Big surprise, I know.) It was wonderful.
I think October is the perfect time for this mindfulness challenge because we are able to have these kinds of moments more often and not feel like we should be outside doing something more active. (Again, the laziness.) These shorter, colder days help me appreciate the little things, which is what Hygge is all about.
NowI just have to figure out how to keep this feeling going when we reach February, which is usually the time when I'm pulling my hair out and dreaming longingly of July.
But for now, I'm going to get my Hygge on and embrace every moment. ~
_____
If you'd like to subscribe to my blog, please enter your email in the space at the bottom of the page. Thanks!
Copyright © 2018 Valentine J. Brkich