October Mindfulness Challenge – Day 30 – Just Your Typical Halloween
by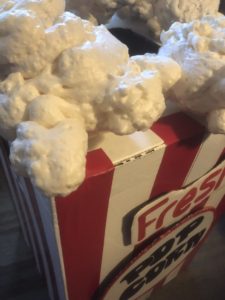 Tomorrow is Halloween. And in my house, that means one thing: all out panic! Even though a month back I suggested we start preparing, as of just a few days ago, neither Boogieface nor The Animal had any idea what they were going to be.
My son, who is much more decisive than his big sis, decided pretty quickly that he was going to go as something called "Fox Drift" from the insanely popular video game, Fortnite. Apparently, every other boy in the world had the same idea because by the time we checked, every online shopping site was completely out of Fortnite costumes. Somehow we lucked out and found someone local selling the particular mask we needed. We just have to leave it outside because of the strong chemical smell emitting from the latex. I'm sure it's perfectly safe for my son to wear on his face for a couple hours during trick-or-treating, though.
Boogs finally decided to go as a huge box of movie popcorn, which I think is darn cute. Unfortunately, it was going to be darn difficult to create, particularly the giant kernels of popped corn. Finding a large box was easy, considering we get a new package from Amazon just about every five seconds. After Cass and Boogs painted it white, I set to work on the stripes, using red duct tape. (What can't that stuff do?!)
Then today, while most middle-aged men were at a job somewhere making money, I was at home hand-painting the words "FRESH" and "POPCORN" for the front of the box. Luckily it only took me a couple hours to complete.
As for the huge popped corn, I found on Pinterest (What has become of me?) how you can make it using a can of spray foam insulation. And you know what? It turned out pretty good. Now all I have to do is hot-glue-gun it to the box. Heck, it almost looks good enough to eat, despite being made of dozens of highly toxic chemicals.
So it looks like, somehow, despite once again waiting until the last minute, we're going to be ready to go tomorrow evening. Of course, now they're calling for torrential rain during trick-or-treating, so the kids' costumes – specifically Boogieface's cardboard one – should last for about 2-3 houses before becoming completely water-logged and ruined.
Happy Halloween, everyone! ~
_____
If you'd like to subscribe to my blog, please enter your email in the space at the bottom of the page. Thanks!
Copyright © 2018 Valentine J. Brkich