Family Visits and Other Bad Decisions
by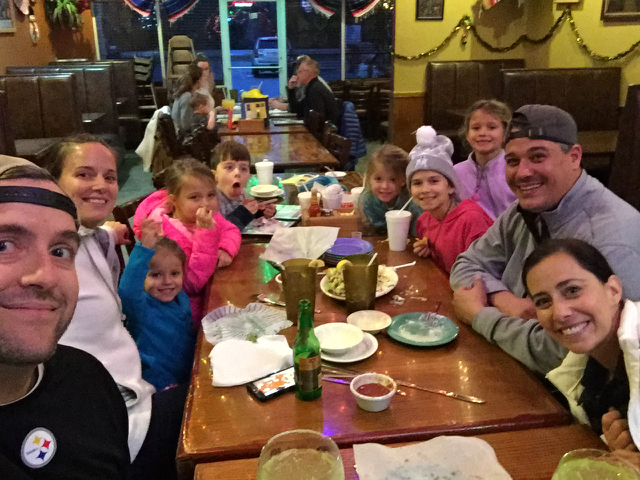 Sometimes in life bad ideas seem to fall right out of the sky, like frozen blue poo from an overpassing jetliner.
"Let's go visit my sister and the girls for New Year's," I said to my wife one evening after one-too-many glasses of red wine. "It'll be so much fun!" 
They're not kidding when they say alcohol impairs your judgement.
And that's how, just two days after Christmas, my wife, the kiddos, and I found ourselves packed into the Hyundai and barreling down the interstate toward Florida. Two mindnumbingly long days later, we finally pulled into my sister's driveway, exhausted but excited to see our four young nieces, whom we hadn't seen in well over a year.
Visiting family is like going to the amusement park: it always sounds like a lot of fun until you get there. After that it's just way-too-many people packed into a place with funky smells and long lines to the bathroom.
My sister and brother-in-law have a lovely home with an open floor plan that makes it feel like you're all living in one big room. This seems like a nice feature until you're looking for a place to hide, which is what I was doing only minutes after our arrival. Usually I would have just gone outside and enjoyed the warm Florida sun. But apparently Florida hadn't paid the heating bill. In the five days we were there, it rarely made it above 40 degrees. Thanks, Obama!
Don't get me wrong, it's heartwarming to see six young cousins having a blast running around the house jumping and screaming and laughing. That said, it doesn't take long before their youthful exuberance can begin to wear on you—like a ball peen hammer to the skull.
Before you know it, you're glancing at the clock every five minutes as you count the seconds to the kids' bedtime. Meanwhile, that bottle of Pinot on the kitchen counter keeps calling out to you with its Siren song: Come, Val! Drink me! I will make everything better!!
By the third day of your visit, you find yourself longing for the peacefulness of the open highway, your kids zombied-out to a Pixar DVD while you put the car in cruise and dream about that much-deserved drink awaiting you at the hotel bar. But of course you still have two more days of self-inflicted family fun to endure.
By the time our five-day visit had come to an end, I gotta admit I was more than ready to go. Yet, it was still sad to say goodbye. I really do love my family, and, chaos notwithstanding, it was oh-so-nice to see them.
Who knows? Maybe in a year I'll have another alcohol-induced lapse in judgement (the odds are high) and once again we'll find ourselves rolling down the old holiday road.
Like they say, time — and a little wine — heals all wounds.~
_____
Copyright © 2018 Valentine J. Brkich