My Disney Adventure: Part IV – A Magical Ending
by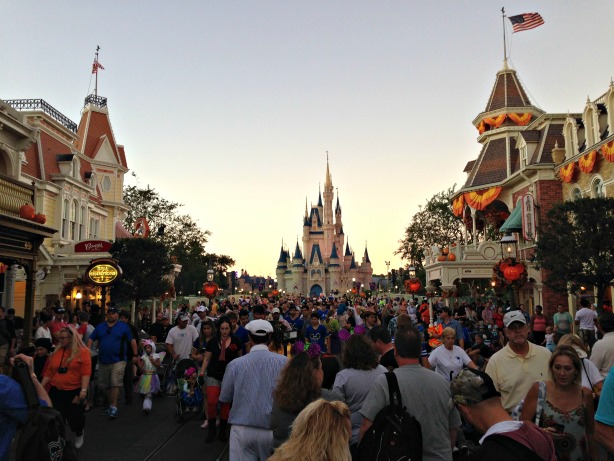 DAY 6 — Day Off / Magic Kingdom Halloween Party
When we planned our Disney vacation (and when I say "we", I mean my wife and my sisters), we decided to include a day off at the hotel where we could relax, recharge, and frankly, sleep in past 7 a.m.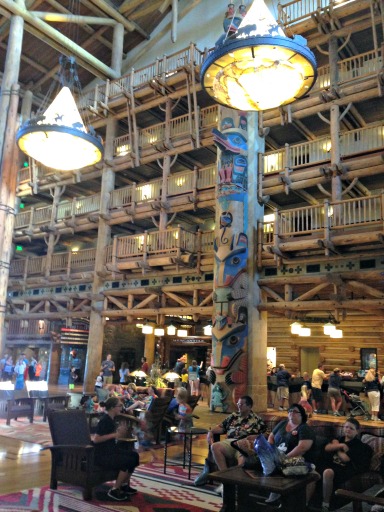 That day had finally come, and after sweating our you-know-what's off at the parks for the past few days, we were all looking forward to a day at the pool. Of course, the night before a cold front goes through and drops the temperature by 15 degrees. Add in a steady breeze and it's just cool enough that no one wants to get in the water. Actually, it would've been the perfect day to be at one of the parks. Figures.
Later on we headed off to dinner at the Whispering Canyon Cafe over at the Wilderness Lodge resort. If you like wood, you'd love this place. As soon as you walk in you feel like you're vacationing at a secluded lodge somewhere in the great American Northwest. The food was great, too. One of their more popular dishes is a big frying pan full of meat. No joke. Just one tip: Don't ask for any ketchup. Trust me on this one.
After that we headed back over to the Magic Kingdom for Mickey's Not-So-Scary Halloween Party. As the rest of my family entered the park and took off for the Pirates of the Caribbean boat ride, Cass and I struggled to navigate our double stroller against the flood of people who were trying to leave the park. This is when I first came up with the idea for the Disney Stroller Cow-Catcher (patent pending).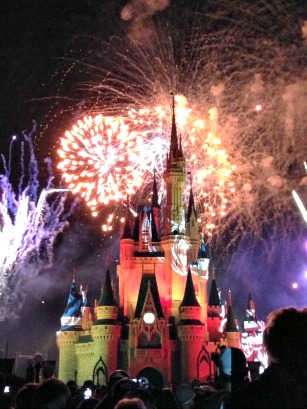 Nighttime at the Magic Kingdom is simply (wait for it) magical. The fast rides seem faster, there's no scorching sun scorching you, and the light show on Cinderella's Castle is…well…just YouTube it. These guys really know how to put on a show.
My favorite part of the night came after I took The Animal on the inaccurately named Tomorrowland Speedway. Believe me, there's nothing "speedy" about this speedway; a more appropriate name would be the Tomorrowland Lawn Tractor Ride. Not only is it surprisingly sluggish, but the cars are extremely difficult to control, too. When the ride was over, my son actually turned to the next riders and said, "Watch out — that car has a mind of its own."
We didn't get out of the park until after 11 p.m., and the kids didn't get in bed until almost midnight. But of course I still stayed up until around 1:30 still, drinking wine and watching reruns of American Pickers. I figured there'd be plenty of time to sleep when vacation was over and I was back home at "work."
DAY 7 — Magic Kingdom – Take 2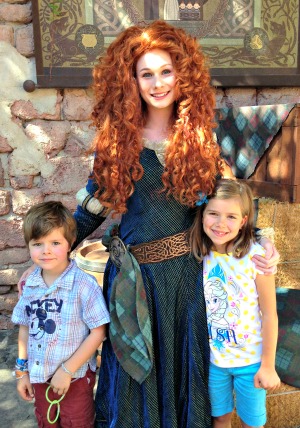 For our final day in Disney World, we decided to head back to the Magic Kingdom. As soon as we got to the park, my folks watched the kids for a bit while Cass and I ran off to ride Space Mountain, aka The Neckbreaker.
After that we spent the day re-riding some of the kids' favorites and getting more autographs from various Disney characters including Anna and Elsa (Frozen), Merida (Brave), and, of course, the main mouse himself, Mickey. FYI, in case you didn't know, Mickey actually moves his mouth and eyes now when you meet him! Funny it took so long, since that creepy narrator in the Carousel of Progress has been doing it since 1964.
At the end of the day, I went up onto the Walt Disney World Railroad platform to take in the stunning view of Main Street U.S.A. and Cinderella's Castle and reflect back on the week that was. I had fully expected (and almost hoped for) a disastrous, frustrating, and completely exhausting vacation. Instead it turned out to be an amazing, magical, and completely exhausting vacation. Usually by the end of the week I can't wait to come home; this time I kept wishing we had another week to go.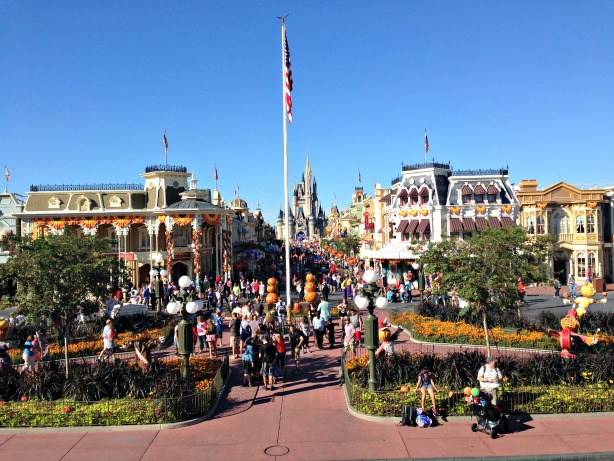 Actually — and, again, I can't believe I'm saying this — I think it was my favorite vacation ever.
That said, it wasn't all "magical." I mean, my knees ached the entire time; I hardly slept all week; I ate way too much red meat; the sun was scorching and merciless; and the crowds were surprisingly large for mid-October. But overall Disney far exceeded my expectations.
Heck, just look at how much I smiled. My official tally for the week, give or take a smile, was right around 1,249. And for a guy who prefers to keep his smiles inside, that's quite an accomplishment.
Well done, Disney World. Well done. ~
PS: Thank you to Art of Animation Manager John for driving the 20 miles from the resort to the airport to hand-deliver my son's Elmo backpack, which he had left out in front of the hotel as we were leaving. They're not paying you guys enough. (Or, maybe they are. I really don't know. But thanks anyway!)
_____
Copyright © 2014 Valentine J. Brkich