10 Things That Can Make My 5-year-old Freak Out
by
The following is a list of things that can send Boogieface into an inconsolable crying hissy fit. There are countless others, of course, but these are the top 10: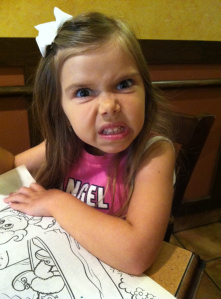 10) Her sock doesn't "feel right."
9) Her tights "feel weird."
8) She gets a splinter.
7) Her brother hugs her too hard.
6) Her brother licks her.
5) Reorganizing the mountain of dolls and stuffed animals on her bed without her expressed written consent.
4) Any deviation from the norm.
3) Her dippy egg is too dippy.
2) Her dippy egg isn't dippy enough.
1) No particular reason whatsoever.