The Force is Strong with This One
by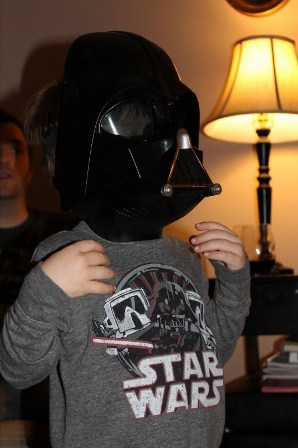 A few weeks ago, my wife asked The Animal what kind of birthday party he wanted to have, because, you know, you can't just have a normal birthday party anymore. I think there's a law or something.
"A fire-fire party!" he said, emphatically. [Translation: a firefighter party]
But then, just a few days later, he abruptly changed course: "I want a Darth Vader party!" Darth Vader? Where in heck did that come from? The kid had never even seen a Star Wars movie.
Cassie, who had already begun imagining the cute fire-engine-red decorations, was not pleased. "Darth Vader?" she said. "No, no…you said you wanted a…"
"Hey!" I interrupted. "You heard the kid. He says he wants a Darth Vader party. It's his birthday, after all."
You see, a long time ago, in a galaxy far, far away, I was sort of a Star Wars nut. It all started when I was a grossly underpaid, country radio station copywriter, in the midst of a quarter-life crisis. Right around that time, the first of the new Star Wars prequels was released, and it rekindled something inside that I hadn't felt since I was a kid. Once again I had a reason to live!
Suddenly I was spending the majority of the workday on eBay bidding for vintage toys , and it wasn't long before my apartment was transformed into a veritable Star Wars museum. Fortunately I already had a steady girlfriend.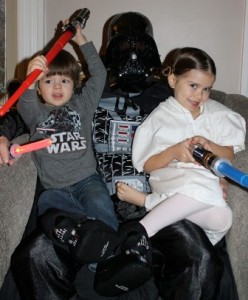 In time I matured and grew out of my childish hobby – thank goodness – but I never fully got over the obsession. So when my son said he wanted a Darth Vader birthday, I was overcome with excitement.
For him, I mean.
Since neither of my kids had ever seen the movies, I felt it my fatherly duty to educate them on this staple of popular culture. So, the week before the birthday party, I made them…er…I mean, I let them watch the original Trilogy a couple times. It wasn't long before they were fully indoctrinated into George Lucas' magical world.
"Look, Daddy!" my son said while watching The Empire Strikes Back. "That's Yoga!"
"Hmmm, yeeess!" I responded. "Downward dog, I will do." Unfortunately the joke  was completely lost on him.
"It's not Yo-GA," Boogieface corrected him. "It's Yo-DA!"
I was never so proud to be a father.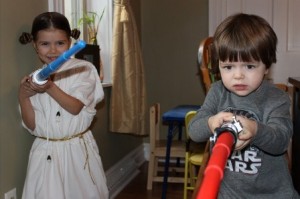 On the day of his birthday, I was…I mean…The Animal was giddy with anticipation. Cass dressed up Boogs like a little Princess Leia, and I even dug out my old Darth Vader costume from the basement, soley for my son's benefit, of course.
Then, right before the party, I gave both kids brand new plastic light sabers, which sent them running around the house like two little Jedis-in-training. I was beaming. (Note to parents: It might not be the best idea to give a large, sword-like weapon – plastic or not – to a rambunctious 3-year-old with little or no depth perception.)
The party itself was all that I dreamed it would be. For my son, I mean. We sang "Happy Birthday" to the tune of "The Imperial March", devoured a Star-Wars-themed cake, and then adjourned to the living room where The Animal tore into his pile of presents like a Rancor at an Ewok convention. (Google it.)
When it was all said and done, my boy had a treasure trove of new Star Wars toys. And just think, we were that close to having a bunch of boring firetrucks to play with.
For my son to play with, that is.