My Disney Adventure: Part I — The Beginning
by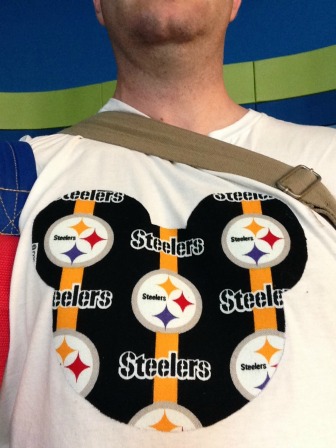 I wasn't looking forward to it.
A whole week in Disney World with my family. Sixteen of us — eight adults and eight kids. It was going to be expensive. It was going to be exhausting.
It was going to be a very, very long week.
Heck, just preparing for Disney is a months-long project. My wife and my sisters had been working with our personal Disney planner — yes, you have to have a personal planner — for almost 9 months. Nine months—the same time it takes to make a human being!
Six months in advance places we wanted to reserve for lunch and dinner were already booked solid. Two months out my wife stayed up until midnight just so she could book our FastPass+ selections before they sold out. It's crazy. When I went to Disney as a kid, we just piled into the old International Scout, drove the 18 hours to Orlando, bought our tickets at the gate, and ate whenever and wherever we wanted.
Nowadays, planning a trip to Disney is like planning a mission to Mars—you better take it seriously or you might not make it back.
It was going to be a disaster. And, honestly, part of me was OK with that. In my experience with writing, I've found that catastrophe makes for better humor. Unfortunately — and I can't believe I'm saying this — but the entire experience turned out to be…well…magical.
In the following days I'll be giving you a day-by-day recap of what turned out to be the Best Vacation Ever.
DAY 1 — ARRIVAL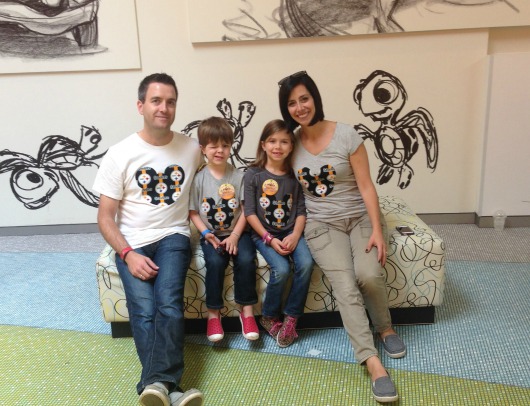 Disney doesn't wait until you get to Florida to start making you happy. After checking our bags curbside in Pittsburgh, we were told that we wouldn't have to worry about them again — they'd be waiting for us in our hotel when we got there!
Smile Count: 1
As soon as we touched down in Orlando, we strapped on our MagicBands and were guided to our waiting motorcoach, which transported us in style to our next week's home at the Art of Animation resort.
After a much-appreciated afternoon nap, we headed to Downtown Disney for dinner at the T-REX Cafe — a supercool restaurant with animatronic dinos that came to life every fifteen minutes and scared the crap out of my son. I had the New York Strip, which I assume was brontosaurus.
After dinner we perused some of the many fine shops and got the kids accustomed to hearing the word no. Then we caught the bus back to the hotel, where we collapsed after a long and tiring day. Of course, we had not yet begun to be tired.
DAY 2 — EPCOT – Land of the Big Golf Ball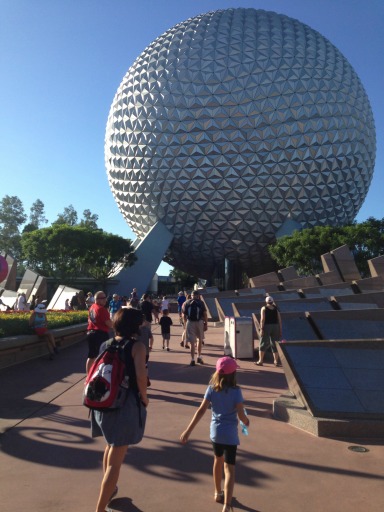 After a quick breakfast in our room, we met up with the rest of the clan and made our way to Epcot. The last time I had been there in the early '80s, the park had just opened and was said to be a model "community of tomorrow." However, across America, the giant, silver golf ball craze never really did take hold.
We got there right as the park opened and ran straight to Test Track, which, according to my wife's exhaustive research, was one of Epcot's must-ride rides. The ride itself was thrilling, but what really caught my attention was how Disney even makes standing in line fun. While we waited, the kids got to design their own race car on a touchscreen computer, which was then "tested" during the ride itself. It turned out that my son's design wasn't very aerodynamic. But who cares? I mean, rocket truck = cool.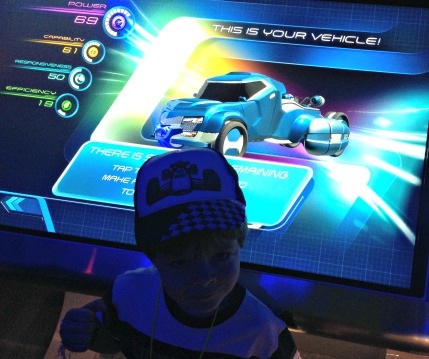 Smile Count: 8
After that we rode The Seas with Nemo & Friends, which was more my speed — slow and relaxing. Then we checked out Turtle Talk with Crush, which wowed the kids and pretty much blew my dad's mind. Imagine a cartoon that actually interacts with and responds to you. I wasn't sure if I should be amazed or completely freaked out.
Smile Count: 14
Next we rode Soarin', a simulator attraction that makes you feel like you're actually flying. My mom thought it was so realistic that she took off her flip flops and held them in her lap so that, and I quote, "they wouldn't fall off and get lost." True story.
We also enjoyed the Spaceship Earth ride inside Epcot's iconic geosphere (i.e., the big golf ball), which takes you on a slow, relaxing tour of the evolution of the human race from the Stone age to the computer age. The kids even dug it. Go figure.
After a meet-the-princesses luncheon, where the kids got to meet Belle, Snow White, Cinderella, Ariel, and, for some reason, Mary Poppins (?), we hit the Mexico attraction, which is inside a pyramid. I was really looking forward to seeing it again, since it had made such a big impression on me as a kid. It didn't disappoint. My kids loved the realistic Plaza de Los Amigos, which makes you feel like it's nighttime and you're strolling the markets of some vibrant Mexican pueblo. It was just as I'd remembered it, only smaller.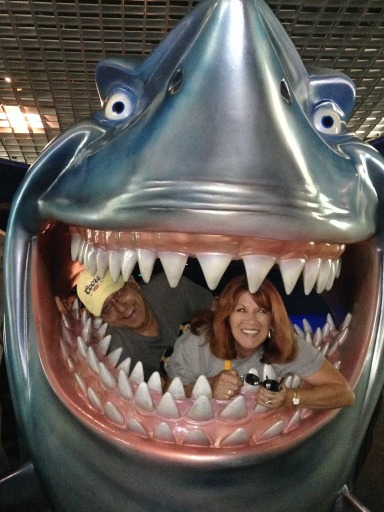 Smile Count: 27
By mid-afternoon the scorching Florida sun had gotten the best of the men, so me, my dad, and my bro-in-law took the kiddos back to the hotel to swim, while the women stayed behind to do a little exploring. That night I drank a bottle of wine while watching Sunday Night Football, in disbelief of how tired I was.
Little did I know, this was just the tip of the exhaustion iceberg.
Next up: Hooray for Hollywood! 
_____
Copyright © 2014 Valentine J. Brkich