On a Steel Horse I Ride
by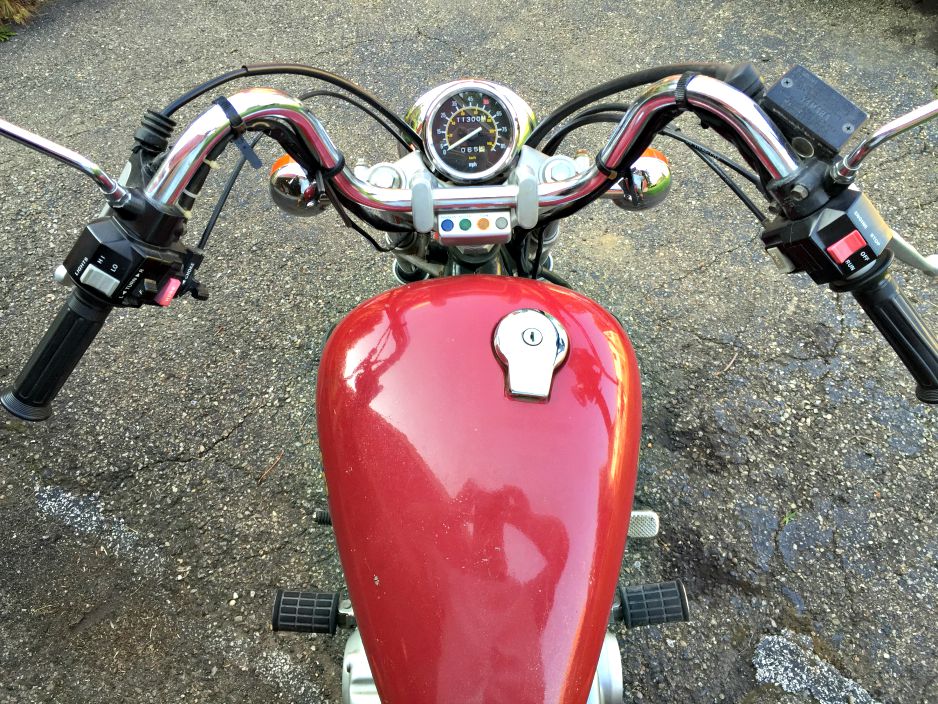 It all started with my good friend Hugh, who's been riding motorcycles for years. "You need to get a bike," he said. Over and over again.
Countless hours watching "American Pickers" and seeing Mike and Frank drool over rusty old Chiefs and Knuckleheads only further piqued my interest.
Then, one night whilst imbibing a few beers with my cousin Ryan, he let it be known that he was selling his old Yamaha Route 66. "It's yours if you want it," he said.
Apparently in my mild inebriation I exclaimed, "Sure! I'll take it!", because the next thing you know he's pulling into my driveway and handing me the keys.
And that's how recently I found myself in the Motorcycle Safety Foundation's Basic RiderCourse℠. Offered free for PA residents with a valid motorcycle rider's permit, the four-day course combines in-class work with on-course riding in order to teach basic, life-saving, motorcycle riding skills.
The first day of the program was all in-class work, and it was my first chance to meet my fellow classmates. Some had been riding for years and finally decided to make it legal, so to speak. Others, like yours truly, had zero riding experience. Nada.
Actually, I take that back. About a decade ago I was over at my aunt and uncle's house for a birthday party, when I decided to take a spin on my cousin's (yes, the same cousin) 75cc motorcycle. The bike wasn't much bigger than your average BMX, so I figured—how hard could it be?
After a brief learning curve, soon I found myself zipping around their expansive yard, feeling more and more confident as I went. That is until I panicked at one point, lost control of the bike, and crashed in their front yard. Fortunately, everyone was around back at the time and didn't see me wreck. So I quickly bent the handlebars back into place, replaced the large divot in their grass, and rode around to the back yard, whistling as if nothing had happened.
But as I sat there sipping on a Busch Light pounder (welcome to my family) and recounting my near-death experience, my left index finger slowly began to ache and throb. The pain gradually increased with every passing minute. Little did I know at the time, but I had broken it. 
And that was The Last Time I was ever going to ride a motorcycle again!
Until, that is, I bought one from my cousin.
To say I was intimidated during the first day of the class would be a gross understatement. After all, I'm not exactly what you'd call "The Motorcycle Type." I'm more of what you'd call "The Typewriter Type."
Basically, whatever the complete opposite of a biker dude is, that's me.
As I scanned the room, I saw Bruce—a blue-collar type of guy who owns a Can-Am Spyder; Doug—a blue-collar type of guy who has been working on motorcycles for years; Nathan—a British import who owns a crotch-rocket and regularly attends local bike nights; and Dan—another blue-collar type of guy who owns a Harley and has been riding for more than 20 years. 
The only others were me, a no-collar type of guy who can't tell a carburetor from a crank shaft (those are motorcycle parts, right?); and a current college student, who'd only ever ridden on the back of her boyfriend's motorcycle. 
Unfortunately, one of us wouldn't make it past the first day of riding. (Spoiler Alert: It wasn't me.)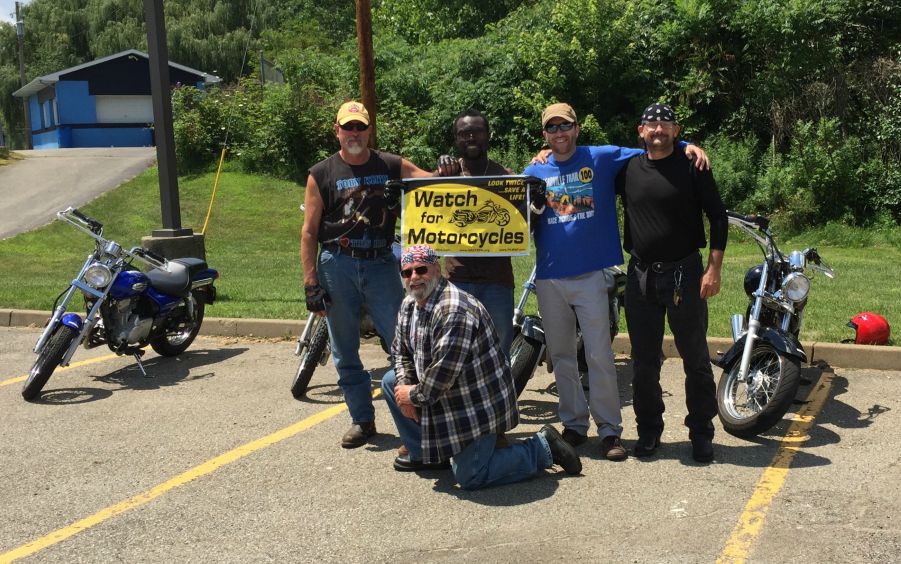 Our instructor, Chris, was very friendly and knowledgeable, and she made us feel comfortable while at the same time emphasizing the level of skill and seriousness you needed in order to ride a motorcycle safely. In other words, she made sure we were sufficiently scared out of our minds. Well, at least I was.
The most important tip I learned that first day in the classroom was this: When you're riding, you have to pretend that you're invisible. Because, to the other drivers around you, basically you are. Fortunately I enjoy pretending like I'm invisible on a daily basis. So that should come relatively easy.
On Day Two I woke up both excited and terrified. After all, this was the day when we would actually get a chance to ride a real, honest-to-goodness motorcycle, some us for the first time. The MSF course actually has a number of motorcycles on hand that you can use, which was nice, since I didn't think mine would fit inside the trunk of my Hyundai.
My nervousness didn't last long, though, thanks to our friendly instructors, Chris and Vince, and also to the course's baby-steps method of getting you comfortable with riding. They literally have you sit on the bike and walk it across the course — in our case, an elementary school parking lot — several times before you ever actually turn it on. This was when I first realized my hips weren't exactly in motorcycle-riding shape. Sitting-behind-a-desk-and-typing shape—yes. Motorcycle-riding shape—no.
By the end of that first day, however, I had done a healthy share of actual riding and really started to feel comfortable with the intricate parts of a motorcycle, i.e., the brakes, the clutch, the vroom-vroom controller, etc. In fact, later on when I got home, I actually took my own motorcycle out for its inaugural spin around town. I would've went for a longer ride, but then I figured I should probably wait until the bike was registered and inspected. I hear cops are sticklers about things like that.
Day Three was more class time, and it was when we had to take the written exam. Fortunately, this part of the course relied heavily on one of my natural, God-given talents—reading. I ended up scoring 100 percent.
Day Four we were back on the course for our final day of on-bike training, followed by the skills testing that would determine whether or not we would earn our license. I must have been doing pretty well, because at one point I saw Dan and Nathan looking and me and laughing after I'd completed the cornering exercise.
"Are you 'Undercover Boss'?" asked Nathan, smiling.
"Yeah," said Dan, "you're here to spy on the instructor, aren't you?" They both laughed and told me how well they thought I was doing. 
Of course the very next time around the track I stalled out. 
Motorcycling Tip: Don't get cocky.
After four hours of training and practice on the course, Chris took us one-by-one and did our skills evaluations. The one I was most concerned about was the infamous "figure eight" test, which was supposed to be the most difficult. But thanks to some great instruction by Chris, I was able to make it out of the cramped box without crossing the line or putting my foot down. This was the only "non-life-saving" skill we were tested on. But as Chris pointed out, it actually could be life-saving, say, if we need to maneuver our way around a bunch of Harleys at our local bike night. Good to know.
So after four days I passed the riding part of the test with flying colors and walked away with my official motorcycle license! (As did everyone else.)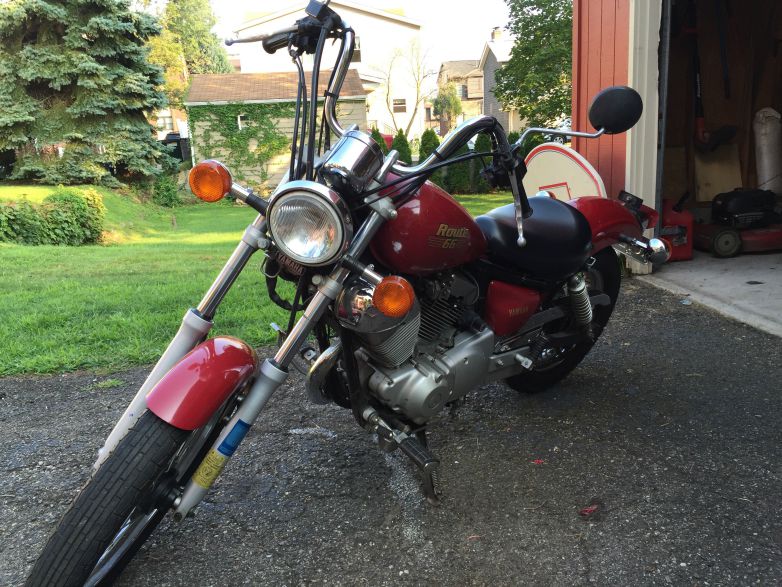 It's hard to believe that I actually have a license and a real motorcycle. It's definitely the manliest thing that's ever happened to me. Except maybe for that time when I successfully changed out the innards of my upstairs toilet.
Now, I know what you're thinking: Motorcycles are dangerous. True, but as long as you ride responsibly — no alcohol, no speeding — and ride ultra-defensively, i.e., pretend that you're invisible, riding can actually be a lot of fun. 
Besides, with my little 250cc, I don't plan on ever getting on a highway or speeding around like a crazy person. Mine will be mostly for getting around town and going on the occasional country road cruise. 
Who woulda thunk it? Me. A biker dude. Anyone know where I might pick up a pair of leather chaps? Actually, never mind.
Motorcycling Tip: Know your limitations. ~
_____
Copyright © 2015 Valentine J. Brkich