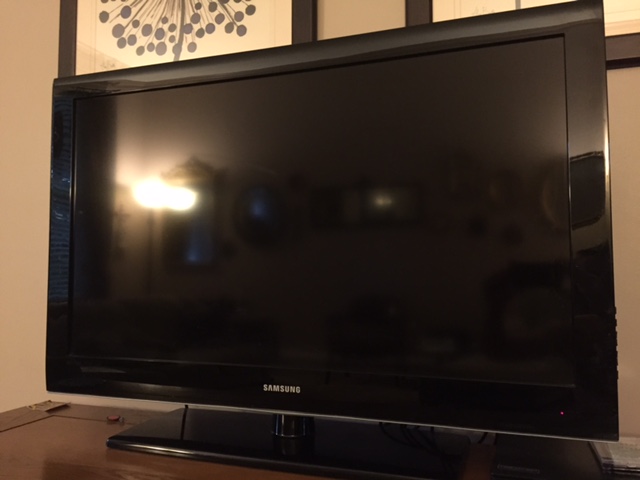 When we first decided to cancel our cable subscription, reactions varied. But most were that of shock.
"You did what?!" exclaimed my dad, staring at me as if I'd just told him I'd gotten a bikini wax. 
My mom was just plain disturbed. "I don't understand," she said, dumbfounded. "Why? Why would you do that?"
Honestly, at first I wasn't sure myself. My wife has been pushing for us to cut ties with The Tube for some time now. She could take it or leave it. I, on the other hand, had a long and devoted relationship with television, and I couldn't imagine quitting it cold turkey. 
When I was growing up, you see, TV played a huge role in my life. Each morning I'd begin my day by watching "Popeye" and the "The Three Stooges" before heading off to school. Then, at dinner time, we'd have our own version of family time, watching shows like "M*A*S*H", "WKRP in Cincinnati", and "Three's Company". For us, Hawkeye, Venus Flytrap, and Mr. Roper were like members of the family.
We had five televisions in our home (yes, 5)—four upstairs and one in the cellar. And at any given moment at least three of them were on. I still remember when Dad replaced our old Zenith console TV with a state-of-the-art, 52-inch, rear-projection television, which had this new thing called a "remote control" and which was about as large as an African elephant. It was like having our very own in-home movie theater, just without the sticky floor and Sno-Caps.
For us, television wasn't just a form of entertainment, it was like another member of the family. And the best kind, too—one that you could change into someone else if you didn't like what you were hearing. 
So when my wife suggested we cancel our cable, you can see why I was a little hesitant. 
Eventually, though, the idea began to grow on me. I was getting tired of seeing Cialis and Viagra commercials every five seconds, especially during the middle of the day when my kids were still awake, and I really couldn't bear to hear about another reality show featuring hillbillies, scared nudists, or obnoxious rich people. So finally I gave in and told her to — GASP! — go ahead and cancel it.
Of course, I didn't think she'd actually go through with it! Geez.
The first night was the hardest. When I went upstairs to go to bed, I glanced over at my now useless, flat-screen Samsung and thought, OK…now what? It was pretty tough falling asleep that night without my normal visual lullaby: Guy Fieri woofing down a heart-attack sandwich in some little-known greasy spoon. But eventually I faded off into dreamland.
The kids have handled it surprisingly well, too. Oh, sure, they still log in to Netflix to get their daily fix of "Star Wars: The Clone Wars" or "My Little Pony", mind you. But they've also really started enjoying this new "playing outdoors" thing.
It's been a couple months now since we've bid cable adieu, and, I have to admit, I haven't really missed it. Plus, we're saving over $100 each month, which is nice.
Here's a few more good things I've noticed since canceling my cable:
My remote thumb is well-rested and performing much better in its other job as my Official Smartphone Scroller.
I haven't heard the terms "erectile disfunction" or "moderate-to-severe plaque psoriasis" in weeks.
No more late-night food binges inspired by "Diners, Drive-Ins, and Dives".
I haven't seen the "news" in weeks and, surprisingly, it hasn't affected me one bit. (Of course, I'm out of the loop on all the local house fires.)
I have no basis and, therefore, no reason at all to engage in small talk on subjects such as the latest Kardashian drama or who did or did not receive a rose on "The Bachelor" last night.
I haven't lost the remote control. Not one time.
The lack of "reality TV" is actually allowing me to enjoy real reality much more. ~
_____
Copyright © 2015 Valentine J. Brkich