Our Epic New England Roadtrip Adventure
by
Thirteen days. Nine states. Two kids. One car. 
From June 7 to June 20, my wife and I, along with our two children, embarked on a Griswold-ian adventure as we toured in the not-so-cozy confines of my Hyundai Sonata. Considering we've never spent more than a couple hours in the car together, this was either going to be the vacation of a lifetime or the vacation of our nightmares.
Here's a brief recap: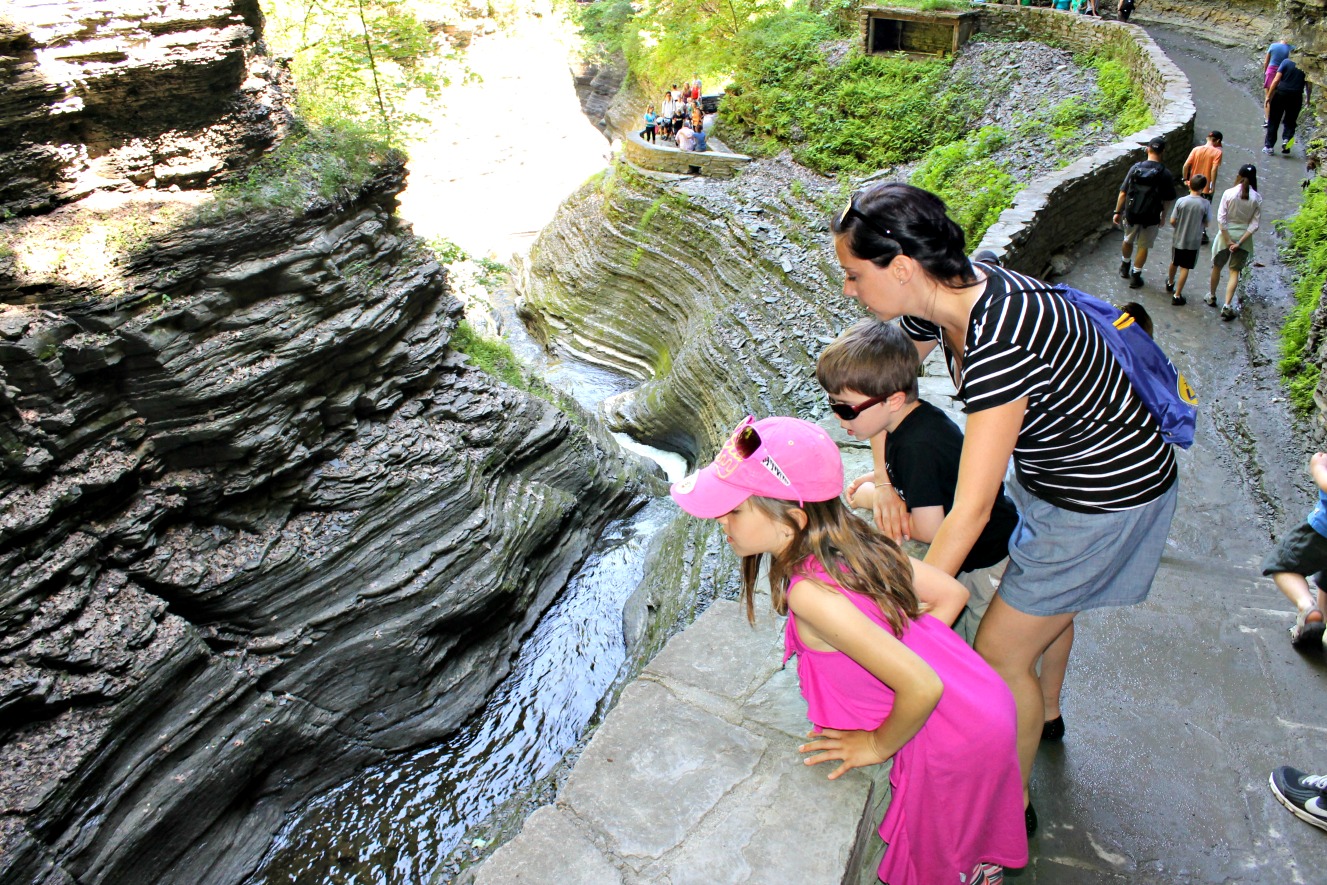 Day 1 — Beaver (PA) to Oneonta (NY)
We leave the house shortly before 5 a.m. About 20 minutes into our 2-week journey, we realize we left the portable DVD player at home. Oops.
Along I-80, I spot a bald eagle picking at some dead animal on the road. Later on, what looks like a dead porcupine. Then, on 15 North heading up into New York State, I see Bigfoot standing against a tree up in the woods. We do a loop, backtracking about five miles to get another look, and it turns out it's just a wooden cutout. I try to tell my kids that it really is Bigfoot, but my son doesn't buy it. "You know why it's leaning against a tree?" he says. "IT'S MADE OF CARDBOARD!"
We get to Watkins Glen State Park around noon, where we hike the breathtaking gorge, and then walk around town, indulging in ice cream (the start of a trend) and marveling at the indoor beehive at Colonial Ice Cream.
When we arrive in our room at the Holiday Inn in Oneonta, The Animal says: "Hey! I've been here before!" The kids swim in the heated outdoor pool, even though it's freezing outside and the pool is lukewarm, at best. 
I close the day by downing four IPAs that originally I had planned to spread out over at least a couple days (the start of another trend).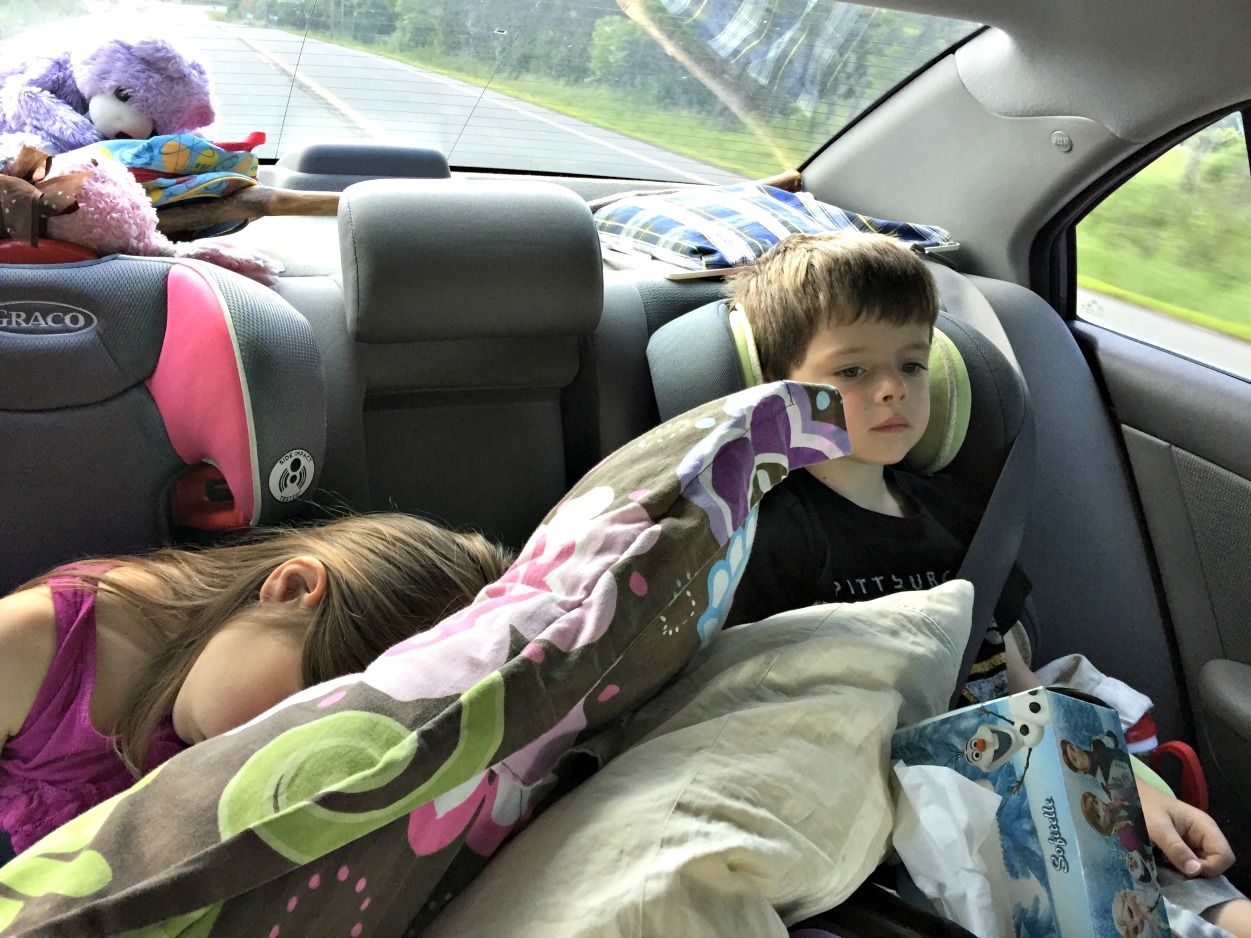 Day 2 — Oneonta (NY) to Brattleboro (VT)
In downtown Oneonta, we visit a toy store where Boogieface buys a "Lottie" doll and horse she'll never play with. Next we visit an awesome bookstore — The Green Toad — where I purchase a notebook with a typewriter on the cover (big surprise). 
About a half an hour out of town, we realize that Boogs left her Elsa purse back at the bookstore. We call the owner, Jim, and he offers to mail it ahead to Boston for us. Nice people are nice.
We take mostly backroads to Saratoga Springs and get pulled over by State cop cause he says he can't read my plate and because my windows are tinted, which, he tells me, is illegal in N.Y. and also illegal in PA. Lovely. Luckily, he lets us go. Later on we find out that two convicts had just escaped from a nearby prison, which is probably the real reason he pulled us over.
At Saratoga Springs, we get "lunch" at Ben & Jerry's and then peruse the town, where we find one of the Best Bookstores Ever! (Notice a trend here?) Later on we dine at Boca Bistro, where I enjoy a memorable burger topped with a fried egg and wash it down with a nice local IPA. 
We take mostly backroads to Brattleboro, Vermont, passing through tons of quaint towns, before arriving at the Holiday Inn Express, where once again the kids have the time of their life swimming in the indoor pool and hot tub. (Vacation Epiphany: We could've saved a lot of money by going to a local hotel instead of gallivanting all over New England.)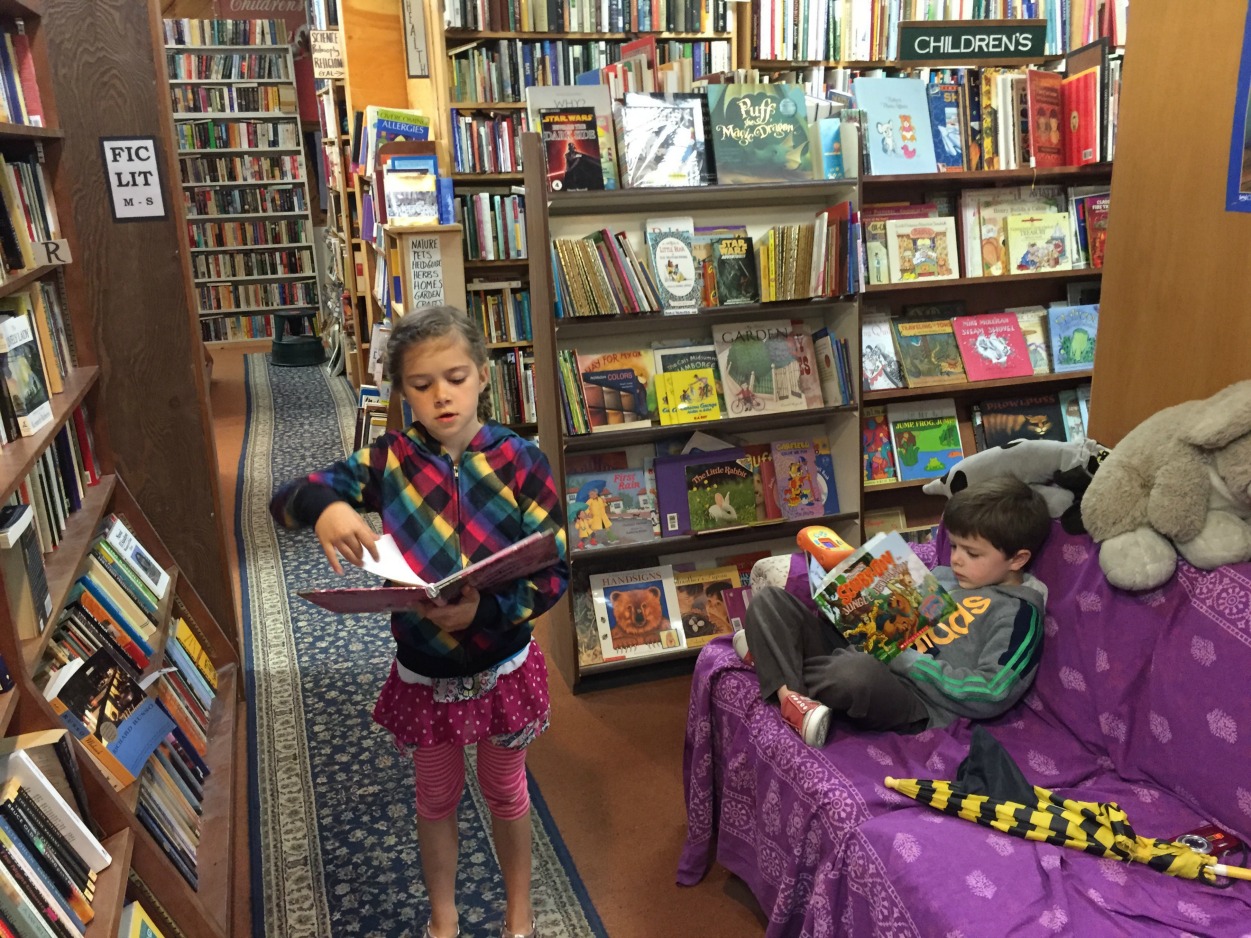 Day 3 — Brattleboro to Burlington (VT)
We head to downtown Brattleboro around 10 a.m. and are taken by its beautiful architecture and small-town charm. 
Stopping in Beadniks bead store, The Animal yells out to his sister: "Hey, look! There's beads over here!" Thank you, Mr. Obvious.
After perusing an antique shop, we stop for coffee and hot chocolate at Mocha Joe's. There I meet my first local and her 3-year-old daughter, Lightning. (I'm not kidding.) After trying to interrupt us throughout the entire conversation, as the hippie woman and her daughter are walking away, The Animal shouts out, "Did you know my cousin Dane had his birthday at Thursdays Restaurant?!" Now you understand why it was so important for him to get that out.
Brattleboro is an amazing little town, despite the strange aversion to deodorant and the apparently mandatory wool socks and hiking shoes. We find three bookstores within ONE BLOCK! (Again, the trend.)
About a half hour out of town, we stop at a maple syrup museum, where my son makes friends with a random boy, sharing more important information: "For breakfast I had 3 pancakes, 2 sausages, milk, and syrup."
A monsoonian rainstorm serves as white noise and the kiddos sleep most of the way up to Burlington. Route 7 is dotted with dozens of solar farms, and the mountains are unbelievable. Best of all, there are no billboards to tarnish the view.
After settling in at our hotel in Burlington, we eat at Farmhouse Tap & Grill. Before dinner, we wait for a table in the speakeasy-esque downstairs bar, where the wi-fi password is, of course, "eatmorekale". I end up having another amazing burger (#addicted).
Back at the hotel, the kids go swimming again (big surprise) before zonking out for the night. After that, Cass catches up on some work while I head to the bar (big surprise) and chat with Greg from Ireland and Alexis from Reno.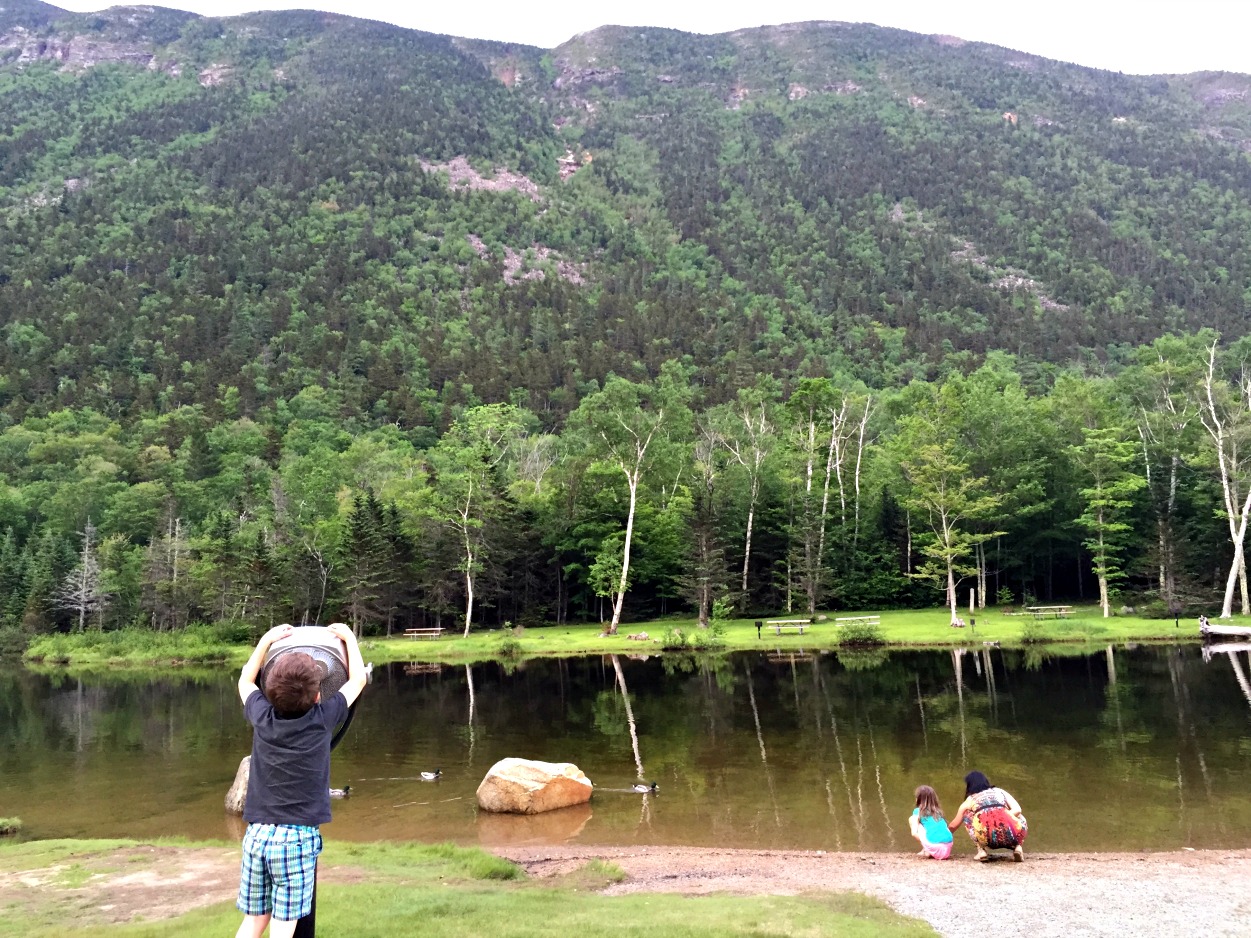 Day 4 — Burlington (VT) to N. Conway (NH)
We spend the morning down at a playground along the Lake Champlain waterfront, where The Animal makes more friends and steps in a huge pile of dog poo. Wonderful. Then we grab lunch at an amazing Himalayan restaurant eating moo-moos and curry-laden foods. 
After that we walk uptown so Cass can do some work at Brueggers. Meanwhile me and the kiddos hang out on the pedestrian-only street, people watching and listening to jazz musicians. Thanks to a tip from my friend, Buffy, I enjoy Heady Topper, i.e., the Holy Grail of IPAs. 
I drop the kids off with Cass and go back down to the waterfront to retrieve our car, where I find that she had left the back door open—FOR TWO HOURS! Thankfully there was nothing missing. Apparently Burlingtonians are honest folk.
Along the way to New Hampshire, we do the Ben & Jerry's factory tour, which is eh, but the ice-cream samples are OH!
We drive through Crawford Notch State Park, and are blown away by the mountainous scenery. We stop at a pond along the way and see actual beavers swimming in pond! All around the woods are lovely, dark, and deep. (And Squatchy, too.)
I almost crash the car as I spot a roadside store that sells amazing, giant, metal sculptures of things like Transformers and the Predator from "Predator".
The North Conway Grand Hotel is quite grand, and the lobby is populated by giant stuffed animals, including a beaver named "Leavit". We drop our bags and go straight outside to the pool, where the kids splash and annoy a couple trying to have a nice, romantic evening in the hot tub.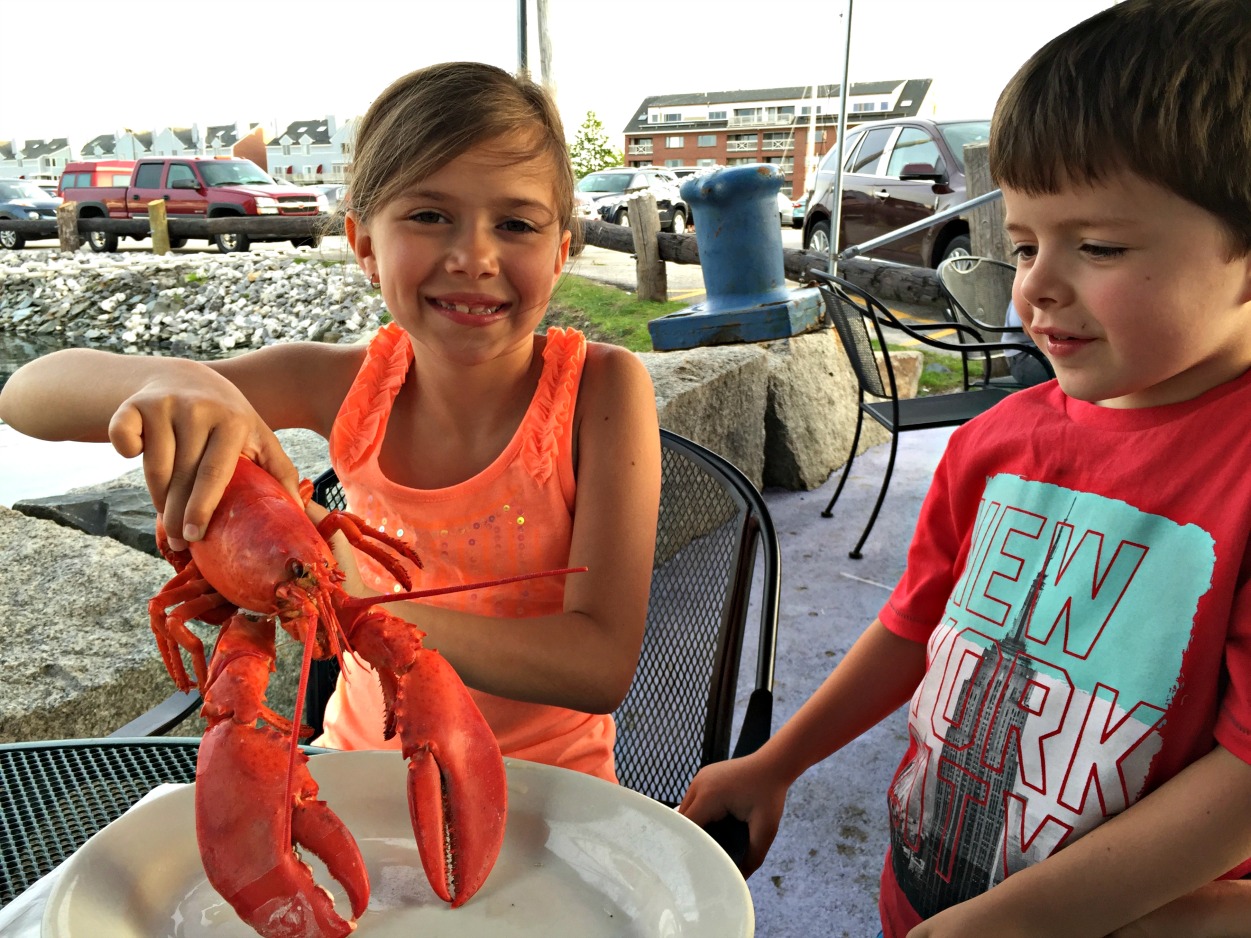 Day 5 — N. Conway (NH) to Portland (ME)
I take kids to the pool around 10 a.m. while Cass is on a call. I read a book while the kids swim and play "Spy on Dad."
After lunch, poolside, we stop in downtown North Conway, check out toy store, and get ice cream at an old-fashioned soda-fountain place. We are total yuppies.
We drive along Rt. 302 to Portland, Maine, praying to see a moose — just one blankety-blank moose, for heaven's sake! — passing a ton of gorgeous little lakes and ponds along the way.
We check in at the Inn at St. John at 4:30 p.m. and head downtown, where we find an incredible bookstore (of course), ride the ferris wheel for $24 (scam). We eat at J's Oyster, and I'm not that impressed: $18 for lackluster lobster roll (I just don't get the hot dog bun thing). Muscles were good, though.
After walking around town after dinner, we get back to the inn around 8:30 p.m. Boogs sets up her bed in the closet and sleeps on the floor. Overall, the kids don't care for inn, since there is no pool, elevator, or ice machine.
Portland is very cool and has a European feel to it. Cobblestone streets, tons of breweries, wineries, quaint eateries, brick buildings, no skyscrapers. Of course, it would be a lot more fun sans kids.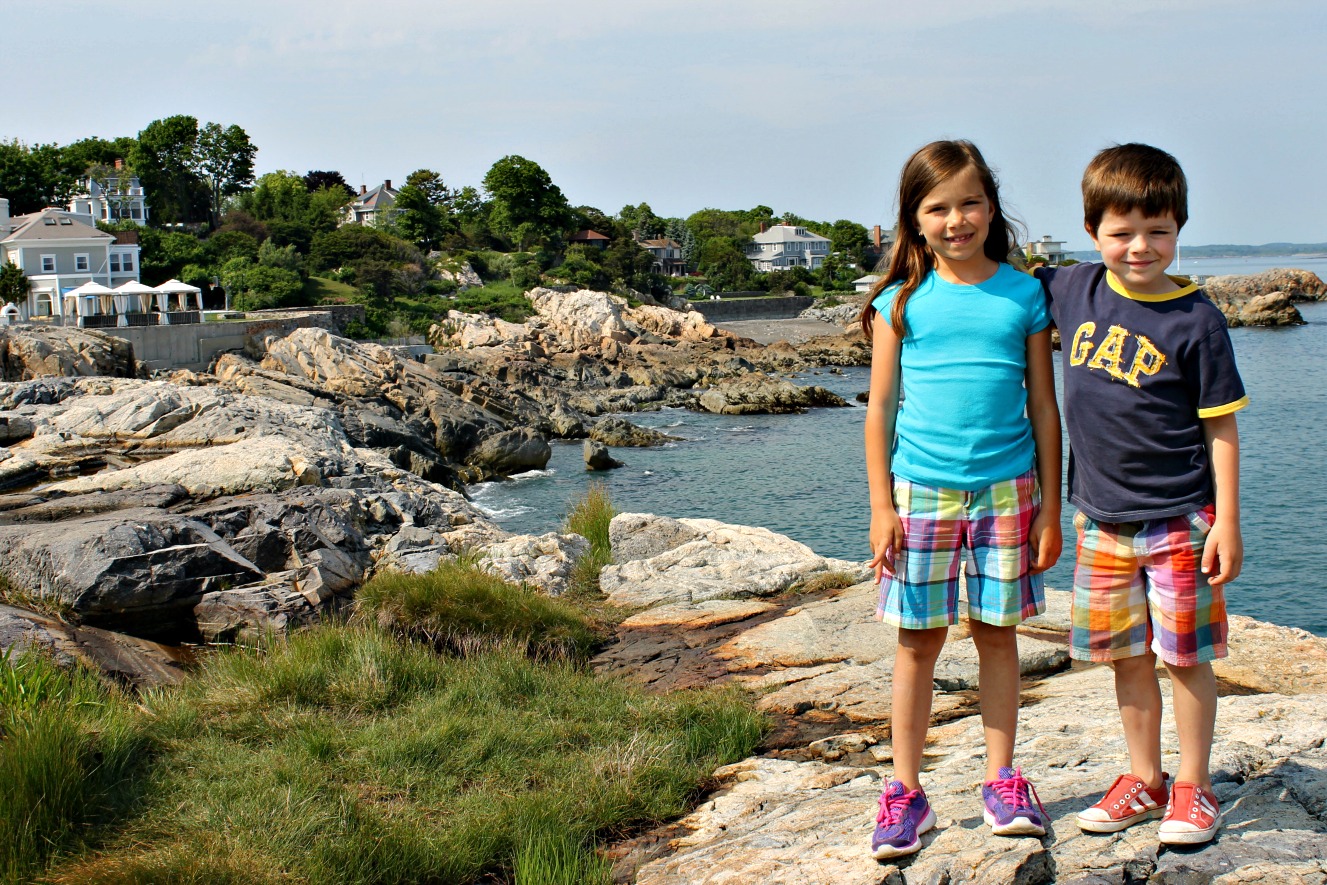 Day 6 — Portland (ME) to Pembroke (MA)
We head out for Portsmouth (NH), stopping off at York (ME) along the way to get saltwater taffy at The Goldenrod and end up sticking around awhile. It's the quintessential Maine town. Right by the ocean, nice beach, great playground, charming shops. We stop at Nubble Lighthouse, where the kids have a blast crawling over the rocks. The Animal declares he feels like Spiderman!
Portsmouth—amazing! We enjoy lunch at Popover's on the Square. I have the New England clam chowder (awesome) and a Long Trail IPA (delish).
We walk around town and find Book & Bar—a used bookstore/bar! People are sitting around reading—and drinking good beer! Unbelievable.
We head to Marblehead (MA), where we climb on Castlerock and gawk at all the rich people's homes. We meet our friends Liz and Hugh on beach, where the kids play at the playground and we secretly drink IPAs from my trunk that I pour into plastic water bottles.
We make it to Pembroke in record time—under an hour during rush hour! Going through the city! It's a miracle. We have pizza at Cassie's cousins Doug and Sue's house and visit her great Aunt Auntie, who still looks amazing at 89.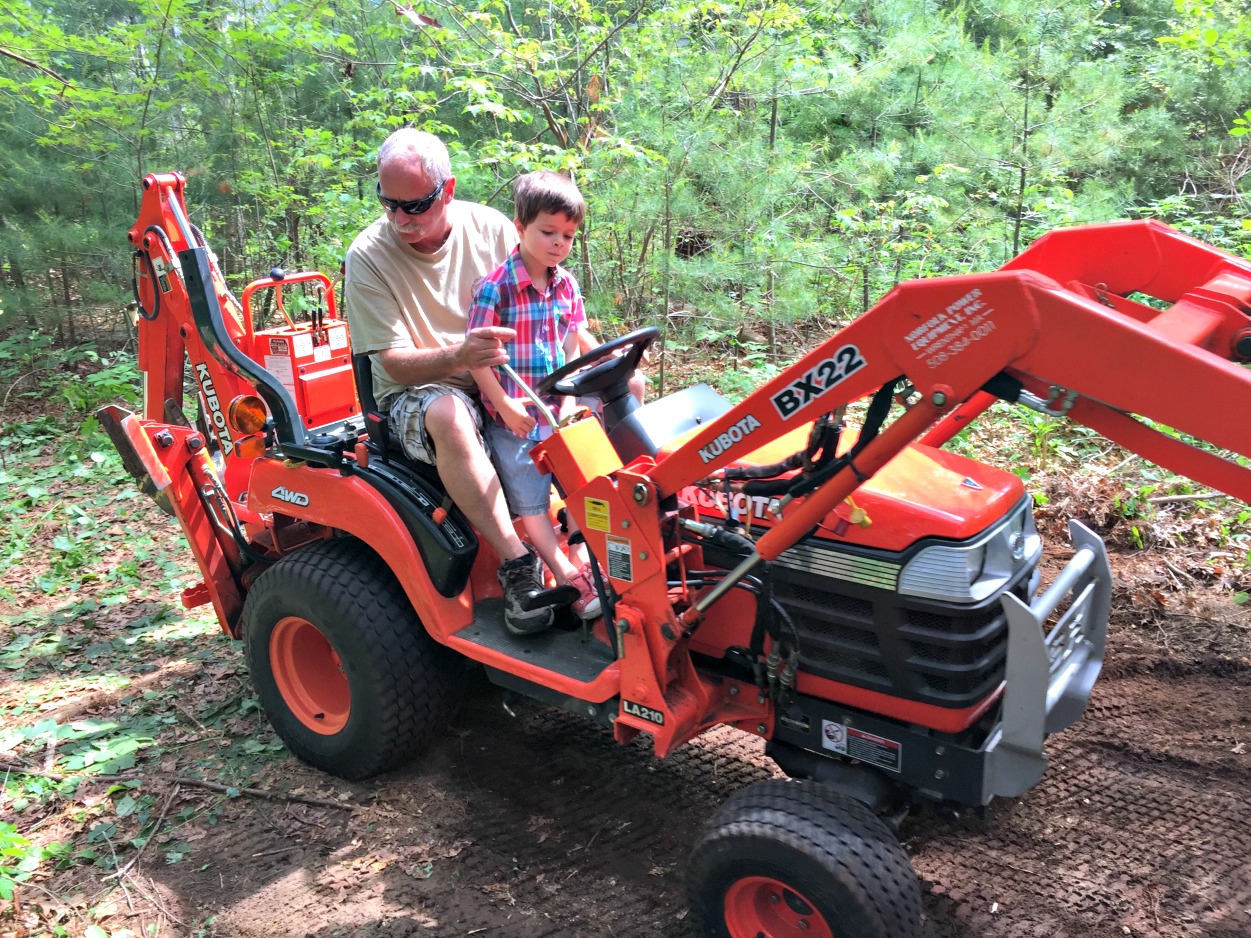 Days 7-8 — Pembroke (MA)
Doug gives The Animal a ride on the Kobuta, and tells him he's now a "heavy equipment operator." (#badideajeans)
Later on we go to an MLS game at Gillette Stadium, where we meet my old college roomie Chip, his wife Tracy, and their boys. I, of course, root for the non-New England team, whoever it is.
The next day more relatives stop by for a BBQ, and we watch skydivers over Doug's house.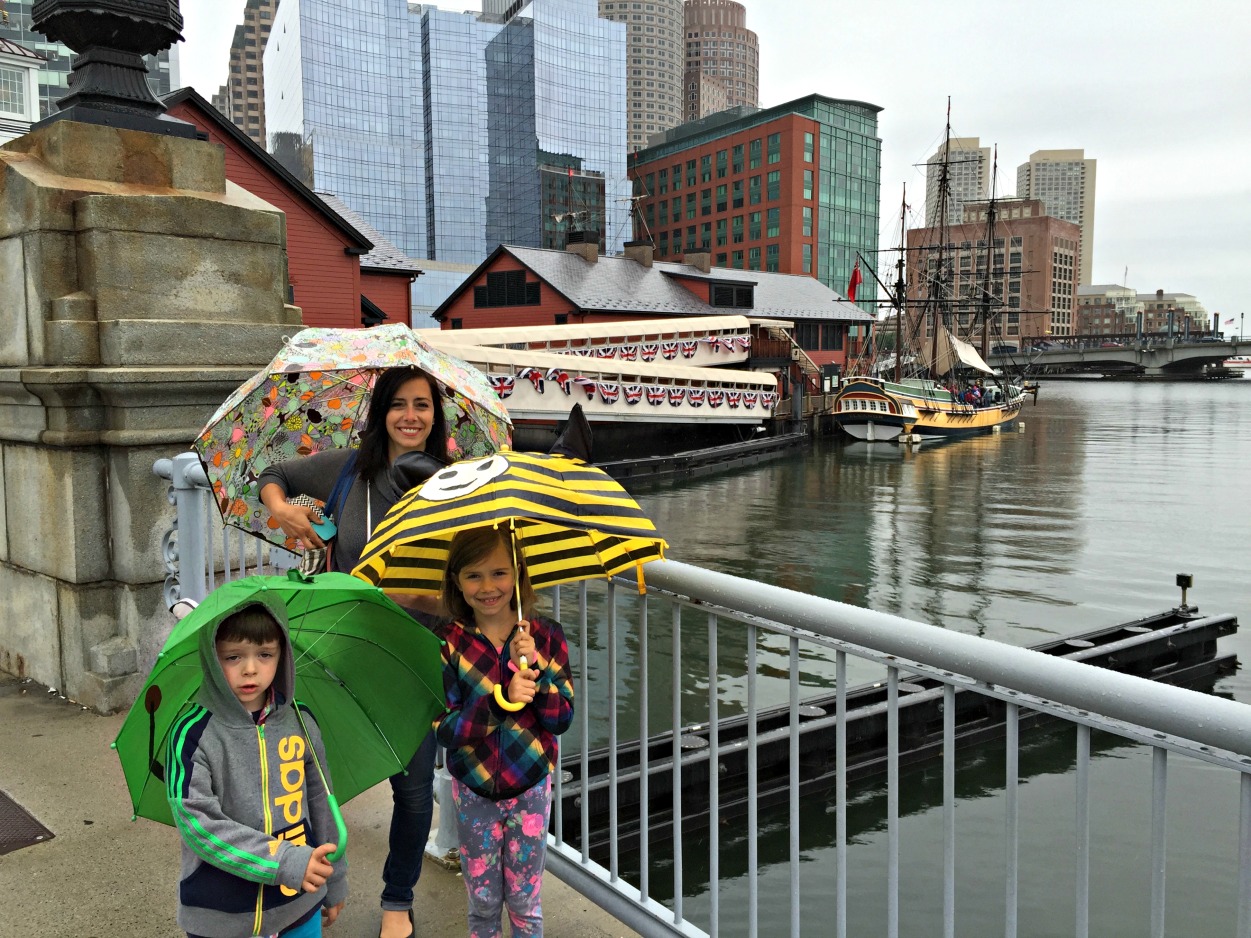 Day 9 — Boston
We wake to the sound of rain on the skylights. Then we catch the train to South Station at 8:45 a.m., arriving at 9:30 a.m. It's freezing cold, windy, and wet. A great day to walk around the city.
After stopping at a local cafe for breakfast and coffee, we hightail it over to the Children's Museum for some dry, indoor fun.
Our friend Jan buys us lunch and then walks us back to the station. Isaac falls and gets hurt while playing on the escalator. People scowl at us in disgust.
I misread the schedule and we miss our train, causing us to wait an extra hour with two tired and bored kids. Wonderful. Jan sticks around to help for awhile before finally leaving us to fend for ourselves.
Eventually we make it back in Pembroke where we enjoy leftovers, Leinenkugels, and one last nice, relaxing evening.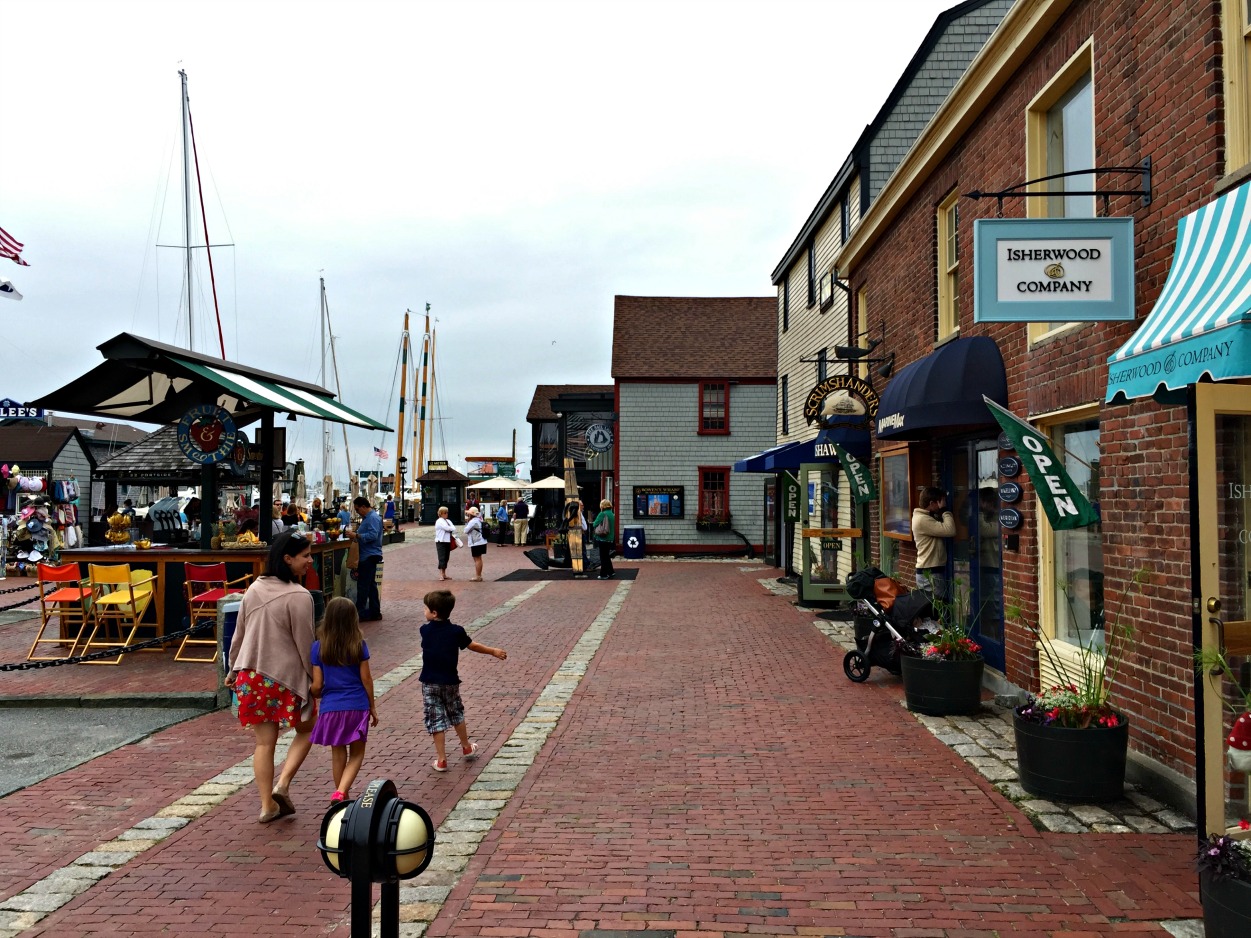 Day 10 — Pembroke (MA) to Newport (RI)
Cass wakes at 3:15 a.m., freaking out that a bat was on her neck. I search every inch of the room but find nothing. Probably just a nightmare.
After packing the car, we visit Auntie one last time, who after observing The Animal in his natural state says, "You must be exhausted at the end of the day!"
We drive to Providence (RI), walk around town, and, yep, find another nice bookstore. (Ugh!) 
Next we head to the picture-postcard town of Newport (RI)—a shore town, with dozens of quaint little shops and eateries. We take a picture in front of the old Newport Tower (as featured on the History Channel's "America Unearthed"), and lunch at Brick Alley Pub and Restaurant, which looks like something out of "American Pickers." I have the clam chowder and an IPA; Cass, the lobster bisque.
The Animal is pretty much unbearable the entire day: wild, constantly making noises, talking relentlessly. We do our best to lose him, but alas, no luck.
We check in at a motel-esque place, where Cass takes a 2-hour afternoon nap. I take the kids out to the pool where they swim for five minutes.
Later on we head back into Newport to Kilwins to have ice cream for dinner, again.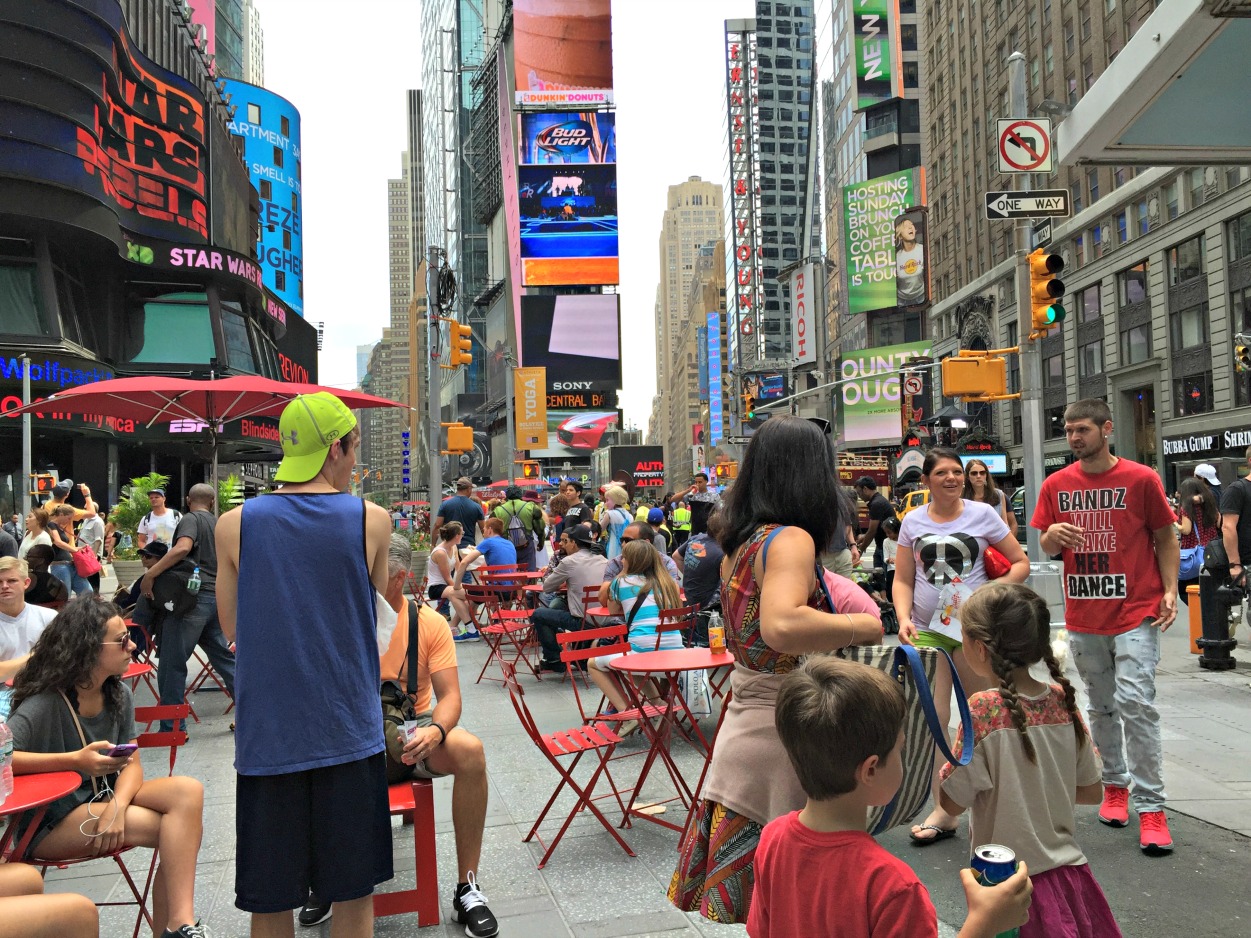 Day 11 — Newport (RI) to NYC
We get to NYC around 2 p.m. Instant insanity. I go the wrong way on Broadway and almost wreck into an oncoming car. At first we can't find any overnight parking. We finally succeed on our try, and it's a real bargain—$87 a night!
We take the subway to Times Square, where within minutes I pay $5 for photo of my son with Not Ironman, Not Hulk, and Not Puss in Boots. Meanwhile several women walk around completely naked and painted like U.S. flags. Only in America!
We visit Cassie's cousins Witia and Julie in Harlem, enjoying beers and guac up on the roof patio.
Later on we meet up with Cassie's friend Sabrina and her boyfriend Ryan, and enjoy dinner at an Italian restaurant outside along Broadway. Later we sit in the garden outside their apartment drinking wine while the kids play. We finish three more bottles late into the night, while the kids sleep on the floor.
I wake early and go down to get breakfast at a local bakery—$42! Yikes.
Later we head to FAO Schwarz, where the kids dance on the big "Big" piano and gaze into the Zoltar game. Whilst playing an Ironman video game, The Animal tells a random kid: "My cousin Dane knows all about him (i.e., Ironman)."
After stopping by a playground in Central Park, we visit the American Girl store, showing my daughter a bunch of dolls she'll never have. Then we have lunch at a kimchi place and spend another boatload of cash. I love NY!
We have a crazy time getting out of the city around 3 p.m. through the bottleneck traffic of the Lincoln tunnel.
Later we stop in Emmaus, Pa., for yet more ice cream. Great little town, with — you guessed it — another indie bookstore!
We arrive at our friend Dominic's and enjoy dinner, chicken and veggies from grill, not to mention a few Susquehanna Pils-Noirs.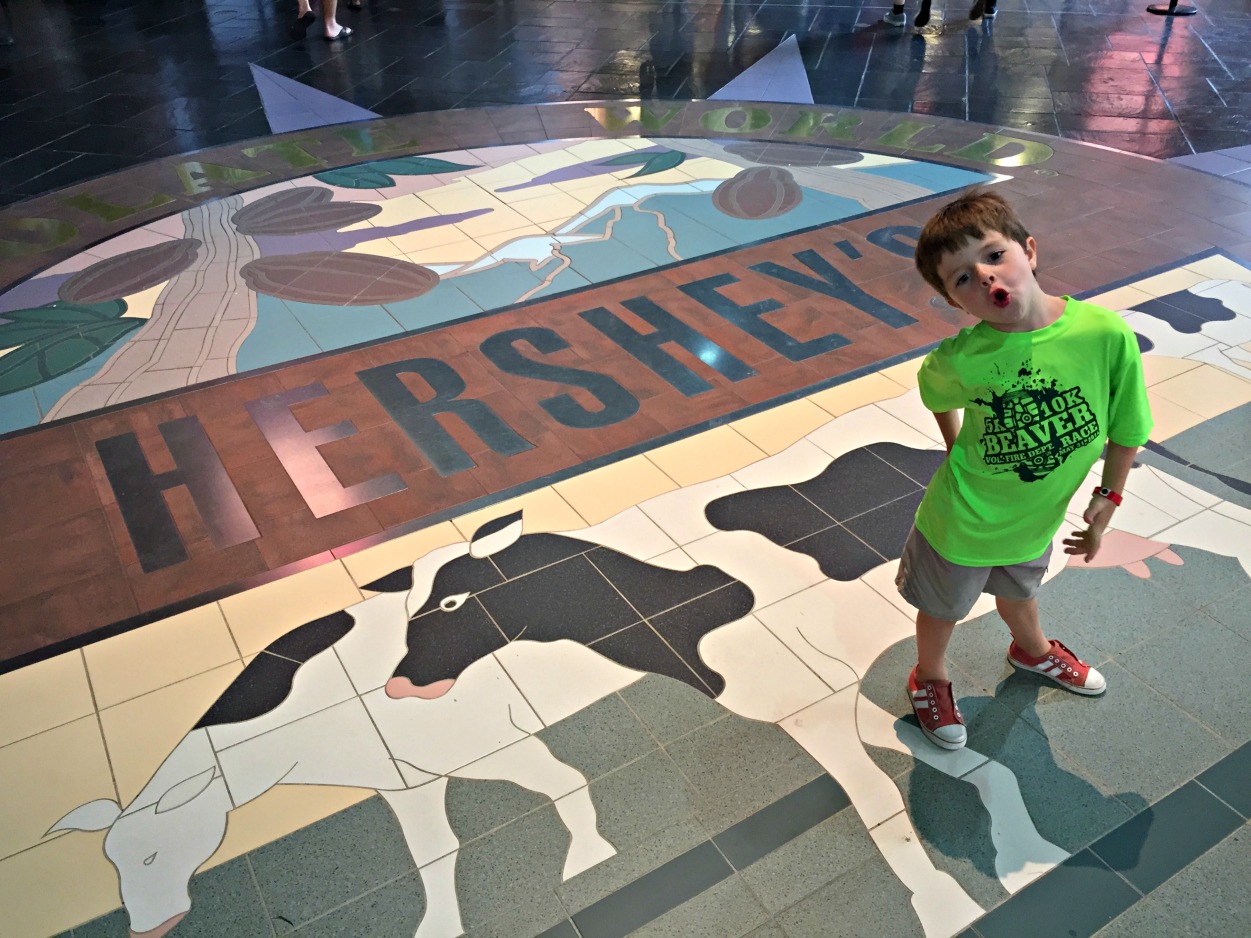 Day 12 — Hershey Park (PA)
After getting an oil change in Lemoyne — $100! — we visit the West Shore Farmers Market (amazing) and have egg sandwiches and donuts for breakfast.
We arrive at Hershey Park right around lunchtime. In the restroom, The Animal says, "It smells like chocolate in here." Then he puts his head in the urinal and says, "The toilet smells like Sprite." 
I ride two terrifying roller coasters (Sky Rush, Storm Runner), lose my pocket tool on the Comet, and find it later at the Lost & Found, but they won't give it back to me until I leave because apparently it's illegal to have a multitool in the park. 
The Animal loves the train ride and yells out, "Look! The train's peeing!", when the locomotive lets out some steam at the end.
We hit the road at 7 p.m. after taking the fake Hershey Factory Tour Ride.
And after another long, scary, stressful, nighttime drive home along the PA Turnpike, we finally get back to the Beav around 11:30 p.m.
New England was lovely, but there's no place like home. ~