Attack of the Phantom Bat
by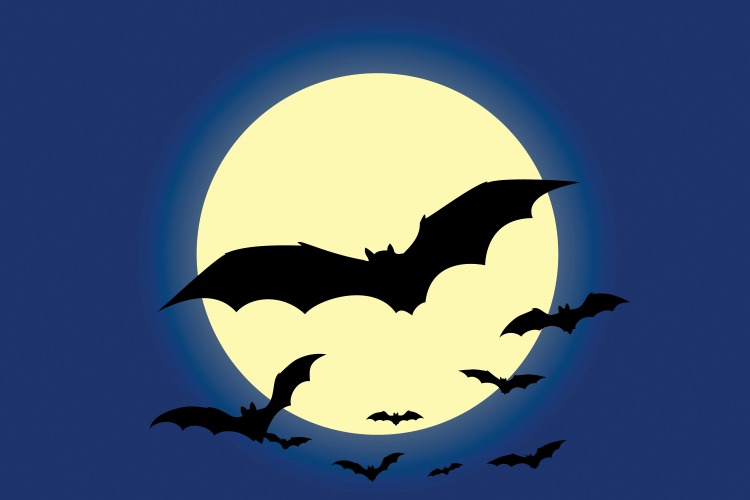 It was the middle of the night when my wife's screams roused me from a Cabernet-induced slumber.
"It's attacking me! It's attacking me!"
We were sharing a sectional couch at her cousin's house in Boston during a short break in our two-week, whirlwind tour of New England. At first I thought I'd accidentally kicked her in the head or something. But as I struggled to focus in the dim light of the living room addition, I watched as she flailed around in a panic, dived down onto the carpet, and cocooned herself within her blanket.
"What are you talking about?" I mumbled. "What's attacking you?"
"A bat! There was a bat on me! It was on my neck and flapping around! Omigod! Omigod! It was on me!"
It was deja vu all over again.
Just a few years earlier we had been sleeping on the very same couch in the very same room, when I was awakened by a fluttering sound and discovered a bat flying around the ceiling between the exposed rafters. My survival instincts kicked in and I immediately escaped from the room, leaving my sleeping wife behind to fend for herself.
As you can imagine, I've never heard the end of that one.
Just this past winter another winged rat found it's way into our own bedroom during the middle of the night, which ended up in us spending a boatload of cash to de-batify our home. 
So when this latest bat encounter occurred, I knew I had to do something to earn my Man Card, so to speak. 
While my wife pulled the blanket around herself even tighter, making sure she was completely sealed off and bat-proof, I turned on the lights and began to search the room for our little nighttime visitor. I searched high and low, literally—both up in the ceiling fans and rafters, and down on the floor inside our vacation clothes bin and beneath the couch. 
But despite my exhaustive search, I found no sign of Mr. Bat. 
"Are you sure you weren't just dreaming?" I asked, adding, quite bravely, "You've probably just got bats on the brain from the last time we were here."
"I'm positive!" came her voice from beneath the blanket. "I could feel it flapping around on my neck! ON MY NECK!"
Eventually, I gave up searching and tried to fall back asleep as my wife sat up, fully awake on her end of the couch, with all the room's lights on, trembling in fear as she waited for the sun to rise. 
For a day or so after the phantom bat attack, my wife was adamant that it had really happened. But as the days went on, she started to doubt herself and wonder if it had really just been her imagination. 
"Maybe it was just a dream?" she'd say to herself as we cruised down the highway. "No. It couldn't have been. I felt it—it was real! Then again…maybe it was just my own hand? I don't know!"
We never did find any sign of a bat in that room. Personally, I think it was either a nightmare or something else like a stinkbug. Of course, if you know my wife, a stinkbug would've caused a similar reaction. And this is the same woman who went through natural childbirth—twice!  
And you women wonder why we can't understand you. ~
_____
Copyright © 2015 Valentine J. Brkich