Road Trip 2017: The Great Midwest, Part 7 — Columbus, Ohio to Beaver, Pa.
by
A couple weeks ago, my wife, kids, and I packed into the "family truckster," i.e., our Sonata, and set off on our Annual Brkich Family Road-Trip Adventure. The first year took us to New England; last year it was the great Southeast. This year we decided to head west—Midwest, to be precise, to see what hidden treasures we could discover…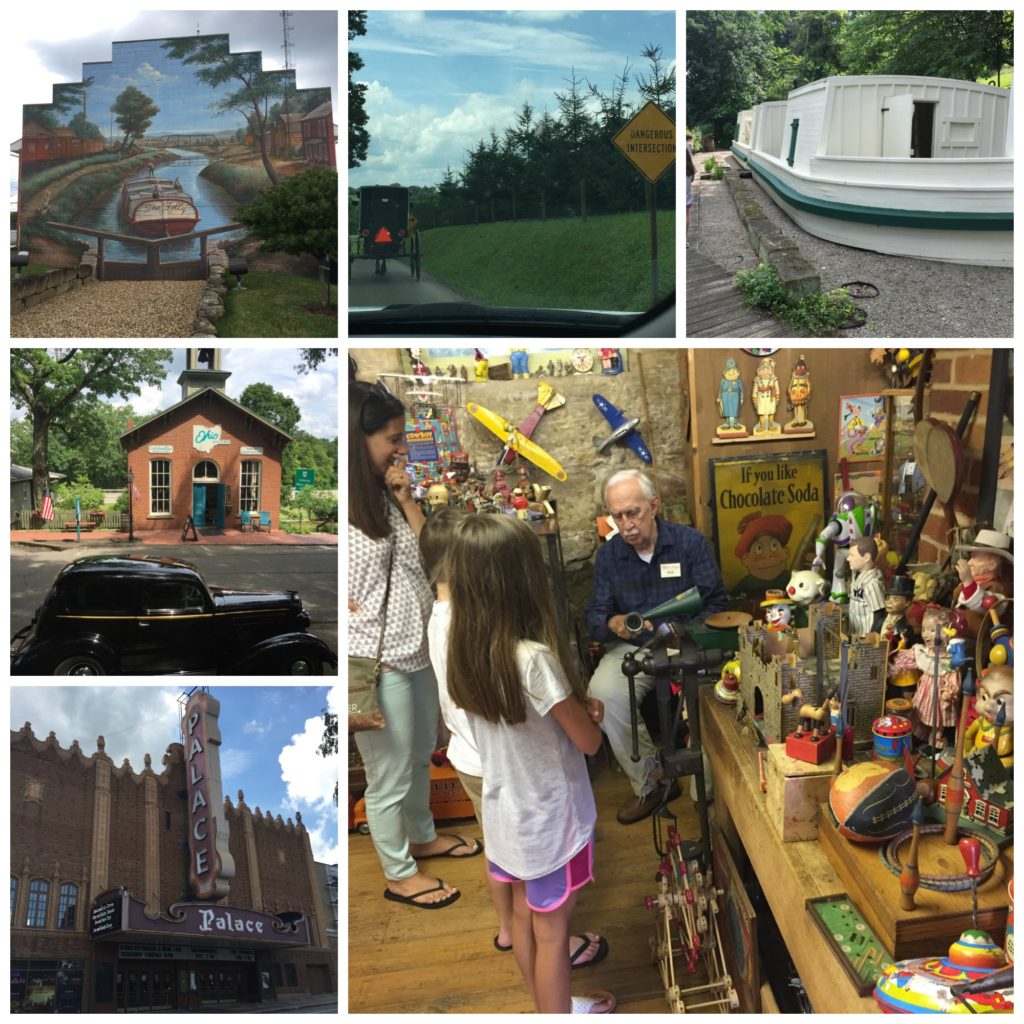 We awoke in our cozy cottage on Hannah's Creek Farm in Indiana to find a visitor at our front door: a horse. Nestle, their beautiful, 23-year-old horse is given free rein of the farm, and you never no where she might pop up next. For us, it was the front stoop of our cottage, where Boogieface got a kick out of feeding Nestle some carrots and apples.
With no real plans for the day, we putzed around the farm all morning. After enjoying a couple coffee, I took a little bike ride down the long gravel driveway and enjoyed the peace and quiet of my surroundings. Next, I took Boogs down to the creek where we spent a good hour or so catching minnows and crawfish (all the while I kept one eye out for snakes, which, fortunately, I never saw).
Around 1 p.m. or so we packed up, bid farewell to the lovely farm, and then hit the road for Columbus, where we'd be spending the night at the home of my old college buddy Nate, his wife Amy, and their two young kids. We got their right around dinner time and headed straight for dinner and drinks at 101 Beer Kitchen. After that we went back to their house and spent the rest of the evening enjoying some good beer and tequila as the kiddos had a Nerf-gun battle with their new friends.
Right as we were getting ready to leave the next morning around 10:30 a.m., The Animal came upstairs from the basement where the kids had all been playing, and we found out he had an accident on the treadmill (which, they were not allowed to be playing on, by the way). He had a couple brush burns on his knees and feet, and a pretty good gash on his big toe. So he had to work hard to hold back the tears as we gathered for our goodbye photo. Lesson learned (hopefully).
Winding our way through the back farm roads of central Ohio, we slowly and reluctantly began to make our way homeward. Then, 12 miles down the road, my phone rang and it was my friend telling me my wife had left her prescription back at the house. So we got to enjoy those 12 lovely miles all over again.
Once back on the road, we hit the highway for about 45 minutes before stopping at the little town of Newark, Ohio, the seat of Licking County. As we drove around looking for a coffee shop, we noticed some stunning murals including one depicting a scene along the old Ohio and Erie Canal, which began just south of Newark in 1825. Although we didn't find a cafe, we did find the wonderful Kicks Mix bookstore, and browsed through its impressive selection of titles before picking out a few new books for ourselves. The town's old courthouse was currently under construction, but you could tell beneath the scaffolding that it was yet another stunning old historic structure. On the way out of town we also spotted the impressive Midland Theatre, which caught my wife's eye in particular because it shared its name with my wife's hometown of Midland, Pa.
Our next stop followed the route of the old canal to Coshocton. Again, here was another quaint, small Midwestern town centered around a charming old courthouse. Although the town looked like it's seen better days, you could tell it still had a lot of potential. One of the stranger things we discovered was some sort of art installation in the center of downtown, featuring a metal track of some kind that looked like a miniature roller-coaster, complete with a miniature loop. It looked like it was still under construction, so I guess I'll have to check back to see what it turns out to be.
From there we moved on to the lovely Roscoe Village, which we'd discovered years ago on another road trip. While other canal towns might just mention their role in the canal, Roscoe Village thrives on it. I'm not sure if there's a big call for canal tourism, but this town seems to do very well. The main street is lined with beautiful old 19th-century brick buildings, which house quaint little shops, museums, and eateries, creating the perfect place to spend a lazy afternoon. We, of course, made our typical ice cream stop, but not before stopping in one of the museums where they had an amazing antique toy collection on display. Before leaving town, we explored the Caldersburg Pearl, a replica of one of the old three-cabin cargo boats that used to ply long-gone Erie and Ohio Canal.
From there we went way off the beaten track, following the windy backroads through Ohio Amish country, dodging horse-and-buggies as we made our way through Berlin and then on to Canton for our final vacation meal at Basil Asian Bistro (well worth the drive, by the way!).
Around 8:30 p.m. we turned into our driveway and the Brkich Family Road Trip 2017 was officially at an end. It had been an epic two weeks on the road — more than 2,500 miles! — and part of me was sad that it was over (particularly the part about eating out every day and drinking new beers every night). But another part of me was really glad to be back home in The Beav again.
That is, until we came into the kitchen to find that something in the garbage had leaked all over the kitchen floor. Home sweet home.
(click here for photos of Days 13 an 14)
_____
Copyright © 2017 Valentine J. Brkich