Trapped in a Runaway Subway — It's Fun for the Whole Family!
by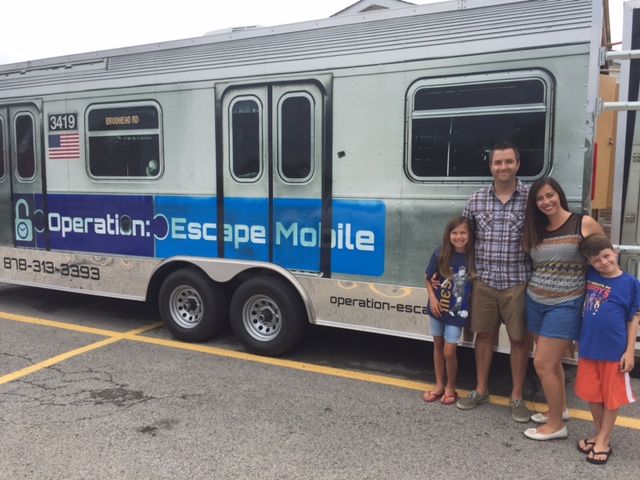 Me. Locked in a small room with my wife and kids. And no way out. Not exactly my definition of fun. But as with most of my instincts, I was wrong.
This week I was invited by the owner of Operation: Escape room in Center Township to come out and experience their "End of the Line" mobile escape room. Set inside a simulated runaway New York City subway car, it challenges you to solve a number of clues in less than 25 minutes in order to stop the runaway car before it crashes and kills you all (simulated kills you all, that is).
I had heard about escape rooms on the Internet and, honestly, I was never that interested in them. From what I heard, you'd be locked in a room for anywhere up to an hour, during which you would have to solve a number of puzzles in order to get out. I am not a big fan of puzzles. Or games. Or basically anything that requires me to use my brain beyond normal usage, which rarely goes beyond watching documentaries and reality shows about Bigfoot. Thinking is hard work. And normally I try to avoid hard work at all costs.
But I've known the owner for a number of years now, and he was kind enough to let us try it out, so I agreed. Besides, there would be plenty of time to hunt for the elusive Sasquatch from my sofa later on that night.
Operation: Escape Room actually offers three other rooms in addition to the mobile unit. "Dixmonte" puts you inside a creepy old abandoned insane asylum. "Time Machine" takes you back to the groovy 1970s and has you searching for a booby-trapped time machine. "Whisper Sister" is a detective-themed room set way back during the Roaring '20s.
When we first stepped into the simulated subway car, I was amazed at how much it resembled a real subway car, just without the subway smell of B.O. and grease. My son, The Animal, was visibly nervous, because he thought that we were actually going to be moving, and that if we didn't solve the puzzle in time the mobile unit was going to literally crash and kill us all. And he's the smartest one of the group.
As soon as we stepped inside, the owner shut the door and our adventure began. After a brief video tutorial, the 25-minute countdown began. We had no initial clues or instructions other than that we were told that something had happened to the subway car driver and it was our job to figure out what and get into the cockpit before the clock ran out.
It was chaos right from the start. Without giving too much away, we all scrambled to find the first clue. Luckily it didn't take too long and soon we were off and running. But after that it got a lot tougher. Pretty soon we were struggling to solve puzzles and locate the subsequent clues. I was the one who wasn't psyched about doing this, remember. But as I watched the clock tick down, my heart was pounding, and I was truly having a blast scouring the cramped car for clues.
Just when we thought we hit a dead end, my son or daughter would notice something and then we'd be off and running again. All the while I kept glancing back at the clock as it ticked ever closer toward zero. It reminded me a lot of the school year, when I'm always glancing at the clock and trying to get the kids to hurry up and finish their oatmeal before they're late for school. This, thankfully, was much more enjoyable.
With less than two minutes left we managed to locate the subway driver and his control room, but we couldn't figure out how to stop the train. Alas, as the final seconds ticked away, we realized this truly was our "end of the line." Thankfully, when the time ran out, this wasn't a real runaway subway car and there was no horrendous crash, just a little fake smoke for effect.
So we didn't succeed in our first escape room experience, but that's okay. We had a blast, and created some memories that I'm sure will last a long time. I know we'll be back again soon to give it another go.
(If you'd like to take a try solving the "End of the Line" or any of their other three escape rooms, you can find Operation: Escape Room at 3419 Brodhead Rd., Monaca, PA 15061. They'll also be at the Beaver County Food Truck Festival, next Saturday, July 29, at Bradys Run Park.)