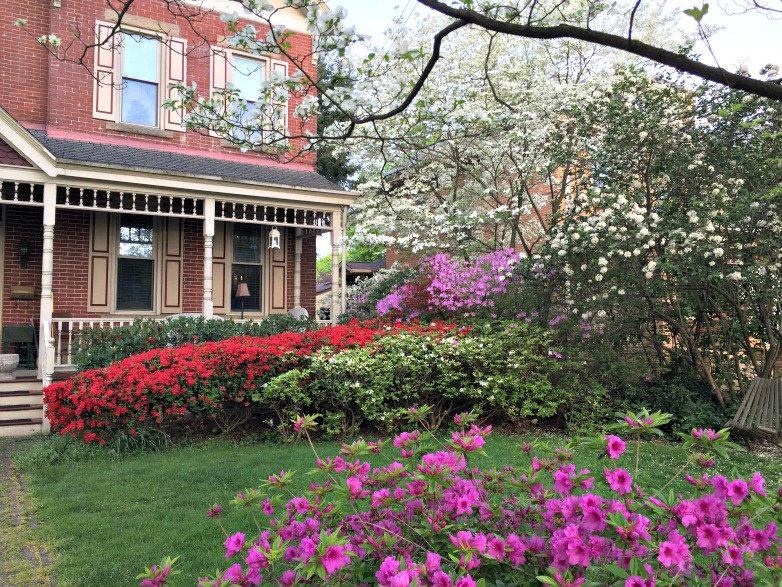 Seven years ago when we moved into our new home along Beaver Street, it was the dead of winter — February, in fact — and there was more than three feet of snow on the ground. What I'm trying to say is, we didn't buy our house for the landscaping. Three months later, we were pleasantly surprised when our front gardens burst in an explosion of springtime color. The azalea, rhododendron, and dogwoods decorated our home in the brightest of reds, whites, pinks, and purples. It was breathtaking, and it still is today.
Each year, as the cold, gray, colorless days of the western Pennsylvania winter mercifully come to a close, I wait in great anticipation for late April, when our brown and seemingly lifeless front-yard flora suddenly comes to life with color, almost overnight. I love sitting on the front porch watching people stroll past and do a double-take as they gasp, open-mouthed, at the natural beauty surrounding our home. "Your yard is beautiful!" They say, as I thank them and smile, knowing full well that I had absolutely nothing to do with it. We've even had people ask to come in and take pictures in the yard, and we happily oblige. Actually, the entire yard, both front and back, used to be a finely cared for floral wonderland. That is, until yours truly moved in.
Soon after we'd come to an agreement on the house that frigid winter, the former owner, who was a dedicated gardener with a wide-open schedule, took me around the property one blustery cold afternoon, pointing out indiscriminate pieces of dirt in the dormant gardens, letting me know exactly what would be popping up come spring and how to properly care for it. "This right here is a wild Appalachian pigmy lotus flower," she'd say (or something like that), pointing at the earth as I shivered uncontrollably, trying to scribble in my tiny notebook even though my fingers were frozen solid. "Now — and this is very important — make sure you only prune it every other year, and be sure to water it at least three times a day—with distilled water only, of course." We spent an hour or so out in the sub-freezing temperatures, moving from one brown, empty spot to another, as she tried to recall what was planted where and as I pretended to listen.
The first few springs and summers we lived here, despite my gardening ineptitude, different areas of our yard would be in bloom at different times of the year, making sure we always had some color sprinkled throughout. But who has time to attend to the needs of plants when you're busy raising a couple young children and working full time? Not this guy, that's for sure. So eventually our well-maintained gardens became not-so-well-maintained and completely overrun with weeds. As the kids grew older and my yard turned into the de facto neighborhood playground, what was left of the previous owner's dedication and hard work was trampled underfoot during all-out Nerf gun wars and impromptu Jedi lightsaber battles.
Thankfully we still have the beauty of the front gardens with their more hardy, kid-resistant shrubbery. Alas, this display of floral beauty is fleeting and only lasts a couple weeks at most. Inevitably, a sweeping spring storm always blows through at some point, the fat rain drops stripping the bushes of all their floral splendor for another year.
But such is life. The key is to appreciate the beauty for the brief time it's here, knowing that it will return again next spring, just as colorful and breathtaking as ever.
That is, unless it gets hacked to pieces by during a random lightsaber attack. Which around here is always a possibility. ~
_____
Copyright © 2017 Valentine J. Brkich