The Beast of Whitehall — A Review
by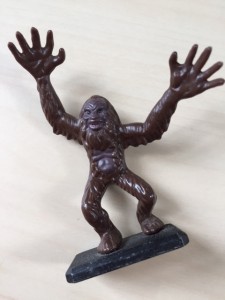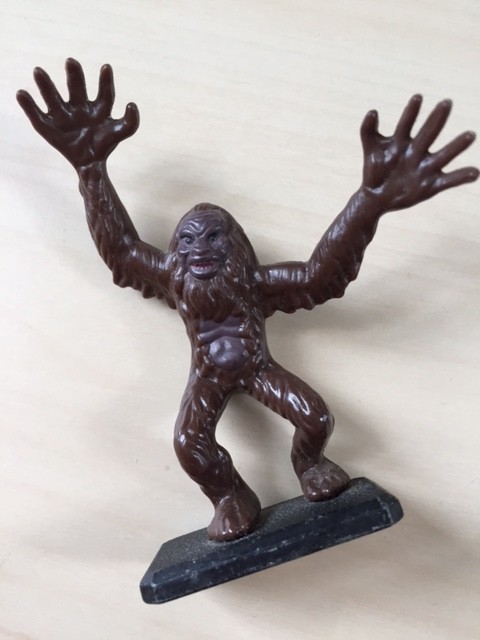 I'm not really sure how I got into this Bigfoot thing.
It probably started back when I was a kid and first heard about the Big Hairy Guy from Leonard Nimoy on "In Search of…" Over time, my interest only grew as I discovered things like Time-Life Books' Mysterious Creatures and first read the word "cryptozoology". For a kid growing up in a town where nothing exciting ever happened, the idea of some giant, hairy, man-like creature haunting the forests of North America captivated me. More recently (and much to the chagrin of my wife) modern TV shows and Internet videos have only served to rekindle my interest in the subject. It's becoming a problem, really. Last year I even attended a Bigfoot conference in Ohio, just for fun, of course.
All I can say is, thank God I'm already married.
Recently I was lucky enough to receive an advance screening of "The Beast of Whitehall", the upcoming release and second film in the Small Town Monsters series. Directed by Seth Breedlove, series creator and co-host of the SasWhat Podcast — yes, there are podcasts about Bigfoot — the documentary looks into the Abair Incident, a bizarre encounter that took place in the village of Whitehall, N.Y., back in August of 1976.
As the story goes, three teens were driving along a back road just outside of town when they spotted a massive, 7-foot-tall, hair-covered creature. Police were called to the scene and eight officers also ended up seeing the strange beast, which, according to several eye-witnesses had "bright red eyes." This was just one of various sightings around the area during that time, and it was one that had a lasting impact on the people of this tiny town nestled within the Adirondacks of Upstate New York.
The thing I love most about "The Beast of Whitehall" is that it has everything I love about the Bigfoot phenomenon: the unexplainable eye-witness accounts from seemingly reputable people; the creepy (but not over-the-top creepy) music and artistic renderings; and basically just the overall, overhanging mystery of the subject. The film is also very professionally done, with some cool, expansive drone shots and a nice combo of original audio testimonies woven in with modern recollections. It's obviously well-researched, too.
As I was watching the film, a couple things that grabbed my attention were how the police on the scene were later told not to talk about what they saw (conspiracy!), and that during another nearby sighting, someone actually encountered what was most likely a big pile of Bigfoot poop. Now that would be something to see (and smell).
Living in a small town myself, I've always wished we had some type of local "monster" of lore. The closest thing we have are the supposed 6-foot-long "monster" catfish living within the murky depths of the Ohio River, which were most likely spawned by the nearby nuclear power plant. (Really makes you wanna take a dip in the river, don't it?)
That's not to say that nearby we haven't had our share of alleged Bigfoot sightings. In fact, right around the same time the folks up in Whitehall were seeing their "Beast", in 1973 two teenage girls saw a large, approximately 8-foot-tall creature, with bright red eyes and covered in white hair (probably a middle-aged Bigfoot), disappear into the woods by their home. There have also been several sightings in Bradys Run Park, around five miles down the road, and, even closer, right across the river in Monaca, where in 2001 a witness claimed to have seen "a big, ugly, hairy, tall, dark colored creature" that "smelled real bad", "walked in a long stride", and "weighed around 500 pounds". (There was no report whether or not they saw it coming out of the local Applebees.)
Come to think of it, I may have had my own Bigfoot encounter a decade or so back. My wife and I were staying in a friend's cabin in a heavily wooded area about 10 miles outside of town, when all of a sudden we heard what sounded like rocks hitting the roof and a loud scratching sound on the outside wall. It was a windy, creepy night, and were both freaked out by the sounds, having no cell phones to call for help, should we need it. I tried to convince myself it was just a branch or maybe even a buck scraping his antlers on the outside of the cabin. But the next morning, when we went out to investigate, the spot on the wall where we'd heard the scratching sounds was a good nine or 10 feet off the ground, and there were no nearby branches either.
Bigfoot? Possibly. Either that or it was just some chipmunks messing with us. Ornery critters, them grinnnies.
"The Beast of Whitehall" officially comes out on April 1st (and, no, it has nothing to do with April Fools' Day), and will be available at SmallTownMonsters.com. Whether you're a Bigfoot aficionado like me, or a complete skeptic like my wife (and just about everyone else I know), I highly recommend you check it out. Who knows? You may just walk away a believer  or at least, like me, a Bigfoot hopeful. Then maybe we can chat about it over wine sometime.
Personally, I find that Sasquatch pairs well with Cabernet. ~