In Search of Sasquatch — the 24th Annual Ohio Bigfoot Conference
by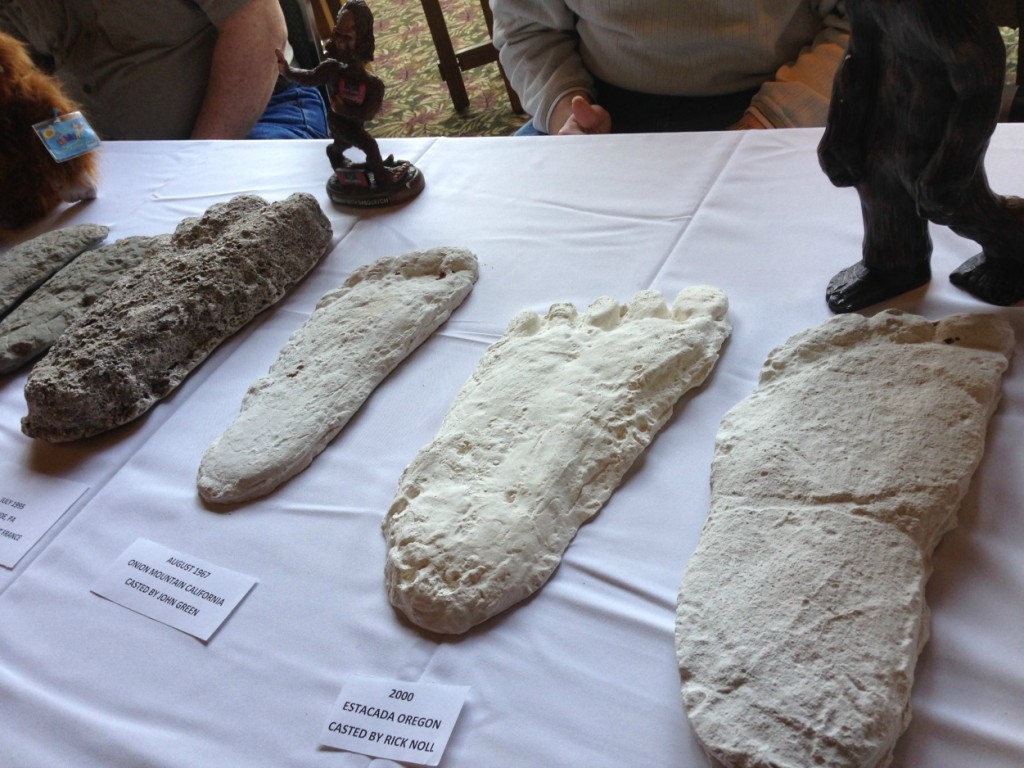 So, I went to a Bigfoot conference this past weekend.
Why would anyone do such a thing, you ask? Well, for one, I've always been interested in the unknown—Bigfoot, the Loch Ness Monster, U.F.O.'s, the appeal of daytime television, etc. Plus, I was drinking wine and surfing the net one night, and ended up buying a ticket on impulse.
Let that be a lesson to all of you out there: don't drink and click.
DAY ONE
On Friday afternoon I made the two-hour trip to Salt Fork State Park in Ohio, which has had many reported Bigfoot sightings in the past. I have to admit, I was a little nervous. After all, I had no idea what to expect. What would the other attendees be like? Would it be a serious discussion on the possibility of an undiscovered North American primate, or would it be more like a Furry convention with people running around dressed up in ape suits and Chewbacca costumes? I had no idea.
Once you reach the entrance to the park, you have to drive another 7 miles before you actually get to the main lodge. Driving along, I could see why Bigfoot would be attracted to this area. Not only is there a large man-made reservoir and 17,000 acres of woodland in which to roam, but they've also got mini-golf.
After getting settled into my room, I went to dinner at the lodge restaurant and spent most of the time scanning the room trying to figure out who else was there for the conference. I saw a couple likely candidates dressed in camou gear. Then, over at a large table of normal looking people, I overheard one of them mention the word "Bigfoot." I thought about going over and asking if I could join them, but honestly I couldn't get up the nerve. I mean, how does one introduce oneself at a thing like this? ("So…you guys here for the Bigfoot thing, too?")
After dinner I ran back to my room to have a glass of scotch on the porch and build up the nerve to start talking to people. Then, on my way to the meet-and-greet, I swung by the lounge and had a glass of wine, for good measure.
Finally I made my way over to the main conference room, where the event host, Don Keating, was speaking to a group of around 30 or so. From what I could glean from their conversation, it seemed like many of them were regulars at the annual event. Surveying the room, I was surprised to see everything from average looking mom-and-pop-like couples, to a couple of punk-rockers, to a 60-something cowboy dressed in a denim shirt, Wranglers, and a black hat and boots—with real spurs!
At one point during the meet-and-greet, one of the attendees brought up the problem of "Bigfoot politics", which I learned has the entire Bigfoot community involved in some serious infighting. It got me to wondering if Bigfoot considers himself a Republican or Democrat. But then of course that's just ridiculous. He's obviously an independent.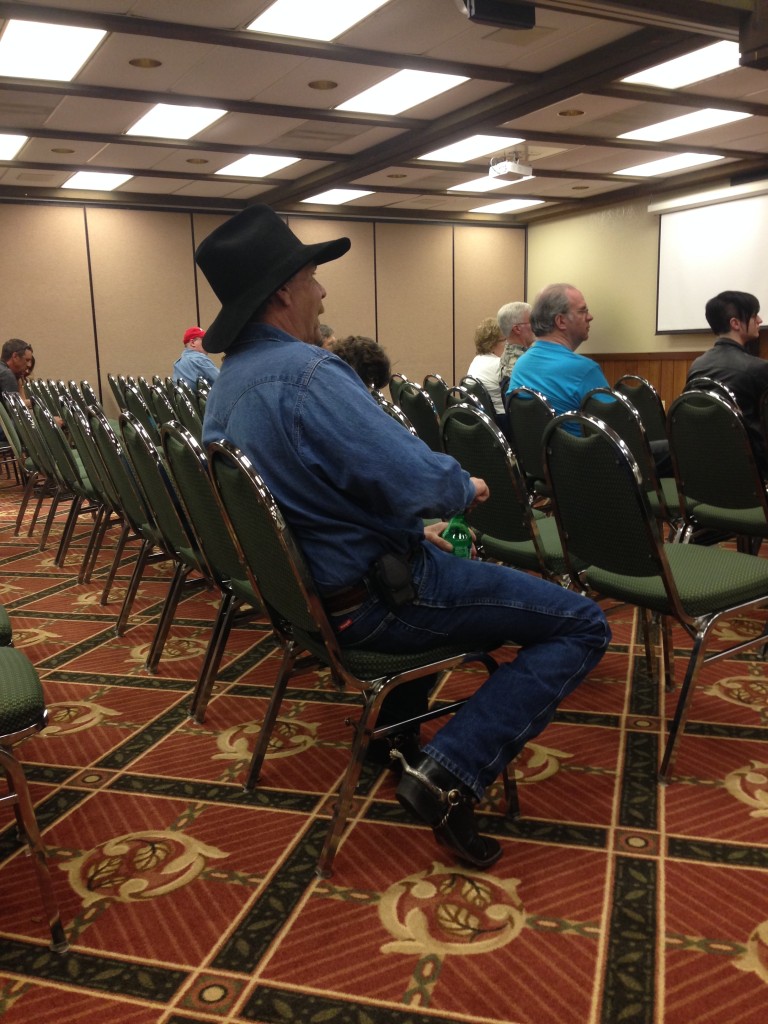 Later on I introduced myself to the man in the cowboy hat, who I was surprised to find out was from nearby Coshocton, Ohio. His name was Matt, and he was kind enough to share his Bigfoot story with me.
Back in the mid-1970s, Matt, his cousin, and his neighbor were out walking some elevated railroad tracks in Port Washington, Ohio, when they looked out and noticed a large white animal crawling through a cornfield. Matt went off to investigate, leaving his cousin and neighbor behind. By the time he had gotten to where he had seen the animal, however, it was gone. So he turned back. As he got nearer to his cousin and neighbor, he could hear them yelling out to him. Apparently, as Matt had been approaching the mysterious creature, it stood up on two legs and walked off. The boys said it was all white and hairy with a black face. 
Matt's been coming to the Bigfoot conference every year since it's inception in 1991. He's never seen anything like what he saw that day in the cornfield again, but he told me he always keeps his eyes open now whenever he's out hunting or fishing.
Around 9 o'clock that night we went outside for a little Bigfoot discussion around the bonfire. It was there that I met Pete, a pediatrician from Trumbull County, Ohio. 
"You wanna see some pictures?" he asked, sitting down next to me and pulling out his cell phone. Some of a photos Pete shared were of strange, unnatural wooden structures out in the woods near his home. Several others, however, featured dark, shadowy figures peeking out from behind trees and blending into the foliage around them. I have to say, they really did resemble some type of humanoid/apelike creature. Of course, I don't know Pete from Adam, but he seemed like a decent, honest guy to me.
His 8-year-old daughter, though, wasn't impressed. "There's no such thing as Bigfoot," she said. Funny—my 5-year-old son had said the same thing to me before I'd left the house earlier that day. Kids—what do they know?
I also met a woman named Sandy who had driven almost six hours to the conference with her sister and nephew from Belews Creek, North Carolina. Sandy told me how there had been numerous sightings around her town, and she also had found bizarre wooden structures in the woods near her home, which "a Bigfoot researcher had verified as real." Her five-year-old nephew then told me an amazing story of how he actually chased Bigfoot around his house! 
"What did he look like?" I asked him, wide-eyed. 
"Big, brown, and hairy," he replied. Then his mother whispered to me that "Bigfoot" was actually just his uncle who had dressed up for the boy's Bigfoot-themed birthday party. 
Balloon popped.
I also met a fellow writer from Cleveland named Natalie, who was with her husband and two boys, one of whom — get this — was named Valentine. Talk about a rare sighting!
Speaking of "big feet", later on I went back to my room to refill my wine glass (i.e., a plastic beer cup) and on the way back ended up spilling it all over myself when I tripped coming back up the steps.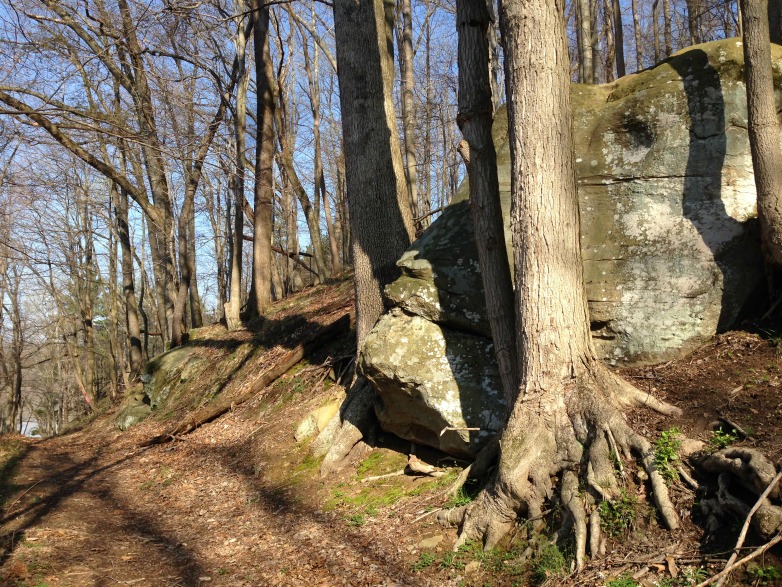 DAY TWO
After breakfast on Saturday I headed out for a hike on one of Salt Fork State Park's many scenic trails. It was a beautiful day to be outdoors and, who knew—maybe I'd run into the big fella out in the woods? Salt Fork has thousands of acres of woodlands with dozens of caves and outcroppings, which are just perfect for a large, hairy, primate to hide in or use as shelter. At least that's what they tell me.
Along the trail I ran into a man walking his dog. His name was Pastor Kirk, and he was wearing a camou shirt and carrying a sidearm. His dog, a yellow lab/bloodhound mix, was named Stonewall after the famed Confederate general.
When I told him why I had come to Salt Fork, he seemed intrigued. Either that or he was just holding back laughter. I never was that good at reading people.
Pastor Kirk did relay a story to me, though, about a friend of his who had seen the so-called "Salt Fork Monster" years ago. According to her, it was around 9-feet-tall, muscular, and completely covered with long, white hair, much like the description Matt had given me of his encounter the evening before.
I kept my eyes peeled as I hiked almost four miles. But unfortunately Paster Kirk was the only primate I came across in the woods that day.
The Bigfoot conference officially began later that afternoon. I'd paid for a VIP ticket, hoping that it would give me exclusive access to Bigfoot evidence. But as it turned out, all it gave me was my name in the program and the opportunity to sit in one of the first three rows. I opted to sit in the back, just in case I needed to slip out to the lounge every now and again. (Hint: I did.)
The first speakers were Todd Neiss, founder of The American Primate Conservancy, and his wife, Diane, founder of Stocking Hominid Research, Inc. 
Todd, in his own words, was a "former skeptic, turned believer, turned researcher." Back in 1993, he was serving as a combat engineer in the National Guard in Oregon, when he had an encounter that changed his life. During a field exercise, he came upon three 8- to 9-foot-tall, manlike, hairy black creatures out in the forest. They had arms that hung "well below their knees", and they were so big and muscular that they "looked like body builders". Todd, an Iraqi War veteran, says he got a really good look at the creatures, watching them for approximately 25 seconds before they went out view. He wasn't the only one who saw them either; his sergeant and three other soldiers did as well. Now, when he's not working as an military analyst, he's out in the woods researching. 
"I would give anything to see these things again," he said. 
The highlight of Todd's talk came when someone in the audience asked him to recreate the thunderous "WHOOP!" he had heard out in the woods, which Todd believed to have come from a Bigfoot. That alone was worth the price of admission.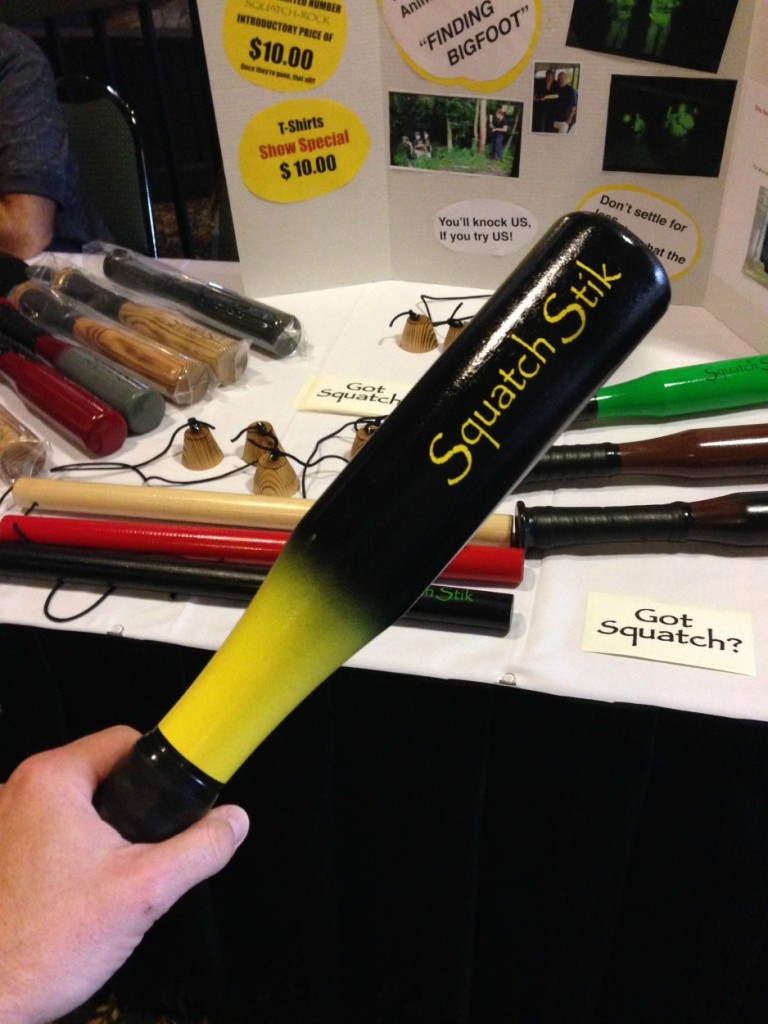 During a break in the action, I chatted with Eric Altman, director of the Pennsylvania Bigfoot Society and host of the "Beyond the Edge Radio" show. Eric was manning a table of supposed Bigfoot footprint casts. One in particular caught my eye because it had been cast in Ross Township, Allegheny County, not far from my home. Eric told me that there have been quite a few sightings in Beaver County, too, including one in 2013 in Brady's Run Park, not five miles from my house.
I also spoke with a man named Steve from the Southeastern Ohio Society for Bigfoot Investigations (SOSBI), who showed me a photo on his smartphone that was taken with a heat-sensing FLIR camera. It showed two large figures moving through the woods, which Steve believed to be a family of Bigfoots — one male and one female carrying a baby Bigfoot — that he had encountered during one of his night investigations. 
The next speaker was Carl Johnson, paranormal investigator who used to be on the SyFy Channel's popular show "Ghost Hunters". He's also co-founder of the Big Rhodey Research Project, which centers around finding "Rhodey", the name given to the supposed Rhode Island Bigfoot, first seen by co-founder Dina Palazini in 1982.
Carl has never seen the creature himself, but he claimed to have had a Bigfoot "sound encounter", where he heard the footfalls of the creature as it approached him out in the Rhode Island woods. He likened the sound and the force of the footfalls to those of an elephant's.  
The event's keynote speaker was Dr. Jeffrey Meldrum, associate professor of Anatomy & Anthropology in the departments of Biological Sciences and Anthropology for Idaho State University. When it comes to the Bigfoot community, Dr. Meldrum's a rockstar. He is the author of Sasquatch: Legend Meets Science, and is widely considered as the leading scientist in field of Bigfoot research. He is also the editor of the Relict Hominoid Inquiry, which, according to the website, promotes research and "provides a refereed venue for the dissemination of scholarly peer-reviewed papers exploring and evaluating the possible existence and nature of relict hominoid species around the world."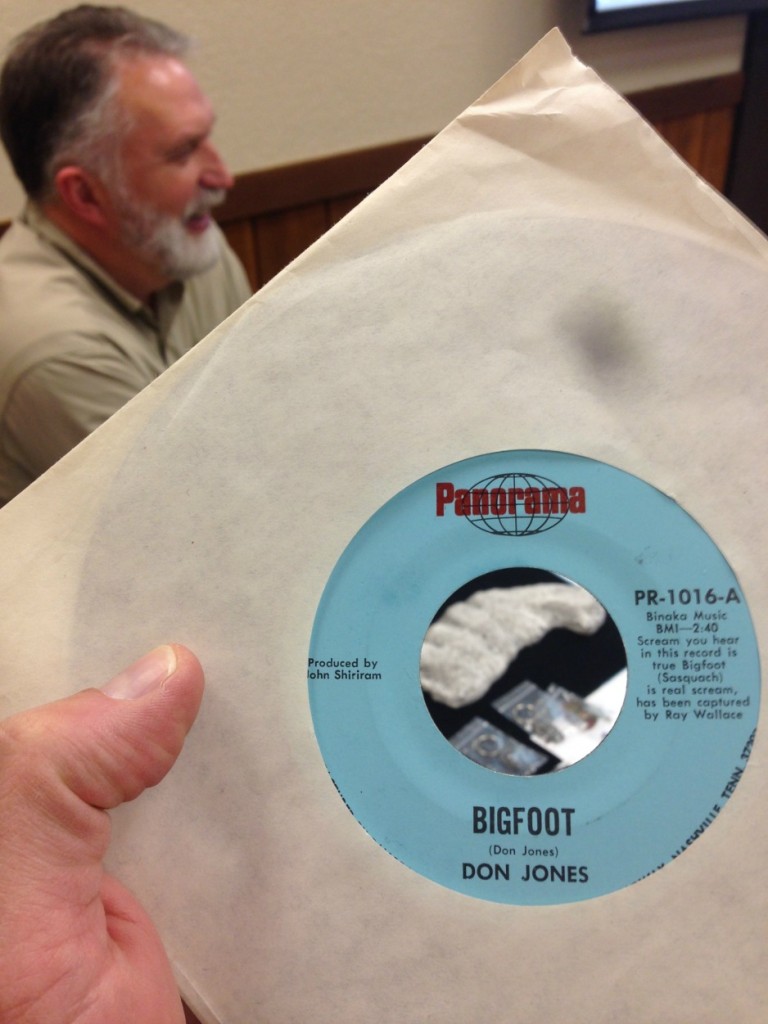 As I mentioned, Dr. Meldrum takes a highly scientific approach to Bigfoot research, and his presentation, which focused on "The Good, Bad, and the Ugly" of the current state of Bigfoot research, was very professional. Part of the "good" that he shared with us was that conservation officers recently found what they believe to be Bigfoot footprints and scat in Wyoming. Unfortunately the scat was rendered unidentifiable — at least as far as DNA testing goes — after a dog peed on it. (Crap.)
He also talked of The Falcon Project—a groundbreaking project he's involved with, in which they're designing and building a 35-foot-long, helium-powered drone to aid in the search for proof of Sasquatch. Unlike normal drones, which are noisy and can only fly for minutes at a time, the Falcon will have a flight time of 8-10 hours and be able to hover silently above the forest and use its camera's to monitor for any Bigfoots wandering around below. Personally, I would have went with the name "Bigfoot Brother" (Get it?) instead. But then again it's not my project.
I left Salt Fork right around 8:30 that evening, right as the sun was starting to set over the horizon. And, I have to admit, I was hoping — and somewhat expecting — to get a glimpse of the "Salt Fork Monster" along the side of the road as it made it's nocturnal rounds of the park. But, alas, all I saw were a few deer. 
Oh, well. I guess it was for the best. I mean, who would believe that I just happened to see Bigfoot while I was at a Bigfoot conference?
That would just sound ridiculous. ~
_____
Copyright © 2015 Valentine J. Brkich