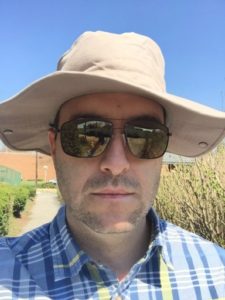 This is it. This is the hat. Deal with it.
I bought this hat because I'm sick of applying sunblock every time I want to go for a walk upstreet when it's a super-sunny day like today. And I really don't care what you think of it. It keeps me in the shade, which is where I want to be.
I've had several iffy moles surgically removed from my body, and one time my dermatologist actually told me, and I quote: "You should NEVER be in the sun." Never. That's good enough for me.
Honestly, I've never really cared for the sun. Oh, sure, it's okay every once in a while. And I do appreciate a nice, sunny day like today. That is, just as long as I'm doing my appreciating from somewhere shady. And now, thanks to my new hat, somewhere shady is anywhere I want it to be.
My wife hates the hat. Despises it. She says I look ridiculous. I'm okay with that. I mean, it's not the first time she's told me I look ridiculous, and I'm pretty darn sure it won't be the last. It's just a normal part of being a husband.
By the way, can you imagine if she purchased a new hat or other piece of clothing, and I told her that she looked ridiculous in it? I'd be a dead man.
Please.
And, yes, I'm aware it's not the most fashionable look for men. But you know what? I'm not trying to win the Most Fashionable Man in Beaver award. I'll leave that for my young hipster and metrosexual friends. I'm too tired to worry about keeping up with the latest trends. I don't know who sings any of the most popular songs nowadays, and I definitely can't afford to be fashionable. I'm a freelance writer, remember?
So I just went for a stroll upstreet, and I happened to catch an old man in a white van staring at me while he was sitting in traffic. So of course I stared back. I'm the king of staring contests. Then, as traffic began moving again, he just shook his head at me and drove off. Great. I'm even getting disapproving looks from crusty old men driving vans!
But you know what? I don't care. This is the hat. Deal with it. I'm 41 years old. I have a beautiful wife and two healthy kids, and I live in a great house in the best town around. And I work for myself, too, which, by the way, enables me to go for a walk anytime I want, especially when it's an ultra-sunny day like today. And when I do, I'll be wearing my "ridiculous" hat. That you can be sure of.
How about you don't make fun of my very practical, sun-protection head gear, and I won't comment on that new "designer" handbag you paid way too much for or those silly, way-too-expensive tennis shoes you still wear even though you're a fully grown, adult man? Deal? Good.
'Cause this is the hat. ~
_____
Copyright © 2016 Valentine J. Brkich