Chillin' in the Cemetery
by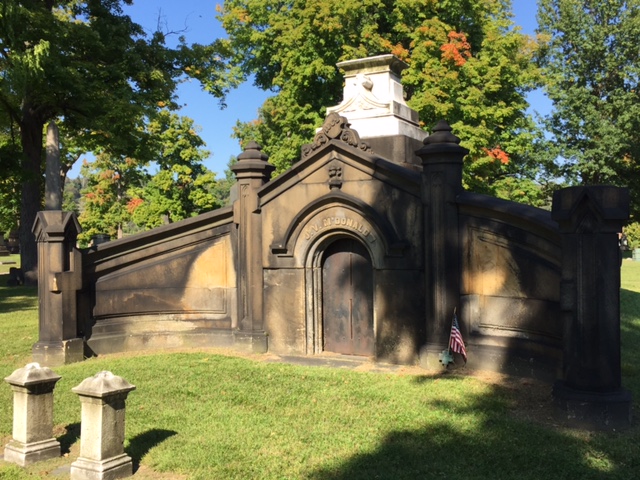 Today might have been one of the last really warm and sunny days of the year. Therefore I decided to get away from my desk, get outside, and go to a place that never fails to make me happy: the cemetery.
The Beaver Cemetery & Mausoleum (aka the Beaver Cemetery, Mausoleum, and Fitness Center to us locals) is one of the coolest cemeteries around. Founded in 1865, it replaced the town's original burial ground, which was located in Clark Square, at the corner of Buffalo and Fifth streets.
Call me morbid, but there's just something about a cemetery that lifts my spirits, no pun intended. This is probably because it's so peaceful and quiet. In other words, I've basically got the place all to myself.
For a writer like myself, a cemetery is a gold mine of inspiration for story ideas, both fiction and non-fiction. It's also a great place to find interesting names for your characters. For example, check out some of the cool names I came across today:
Scudder
Evanella
Buhlah
Lyman

The name plate is missing, but I really dig this "crafty" homemade tombstone.

Cinnie

Arista
Sharp
Montrose
Millicent
Arthalinda
Ora
Drucilla
Titus
Zelenira
Leander
Laraugha
Melzena
Imogene
There were also quite a few Maudes, Mabels, and Matildas. Shame there aren't more little Maudes running around nowadays.
I enjoy running in the cemetery because it's safe (you don't have to worry about people hitting you while texting and driving) and also because it offers ample shade on a hot day. But when I'm not running, I like to step off of the paths and search for some of the more hidden and unique tombstones. I found several that were in the shape of tree stumps, and even one that looked like one of my kids' craft projects.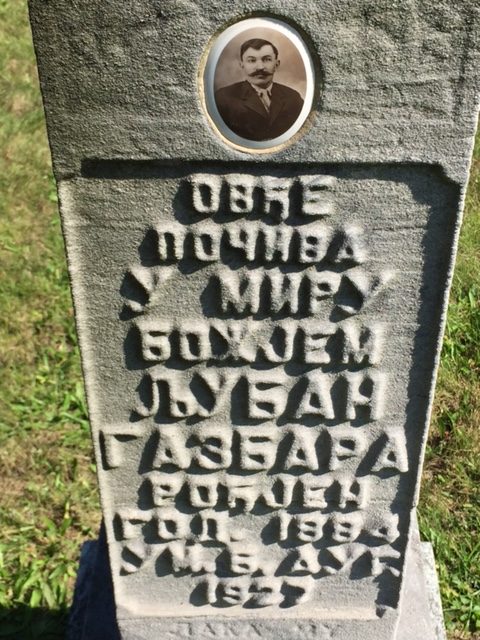 One of the stones I saw today was actually decorated all spookily for Halloween, complete with a "DANGER!" sign, much like something you'd see in someone's front yard. Unfortunately, the spooky effect was kind of lost, thanks to the thousands of other real tombstones surrounding it.
For the most part it was a quiet, peaceful day as I wove my way between the cemetery's hundreds of stones. I did, however, get spooked at one point, though not because of anything ghostly. Looking down at a particular tombstone that caught my eye, I was unable to read the name because of some overgrown hostas. So, bending down, I reached out my hand to move the leaves aside. That's when I saw some movment from within the plant, some whitish hair that, at first glance, I thought was a cat. But then the hair raised up and I realized it wasn't a cat — IT WAS A SKUNK! Another inch and I would've been spending the rest of the afternoon in a bathtub filled with tomato juice. That'll get your heart pumping.
One of my favorite sections in Beaver's Cemetery is the immigrant section all the way in the back. Although I can't read the inscriptions on the stones, I love how so many of them feature ceramic photographs of the deceased, literally putting a face to the unpronounceable name. Apparently, the "Mario Bros." look was all the rage in the late 19th Century.
My favorite discovery of the day, however, had to be the final resting place of Ignatz Kaiser, considering I've been called an "ignatz" plenty of times in my life (and, believe me, it wasn't a compliment). Who knows—maybe this guy's parents were trying to teach him a lesson, a la "A Boy Named Sue" or Forrest Gump.
If you get a chance, be sure to check out the Beaver Cemetery sometime. Just don't go poking around in the hostas. Trust me. ~