Exploring Beaver County – Beaver Falls, Pa.
by
Beaver Falls, Pa.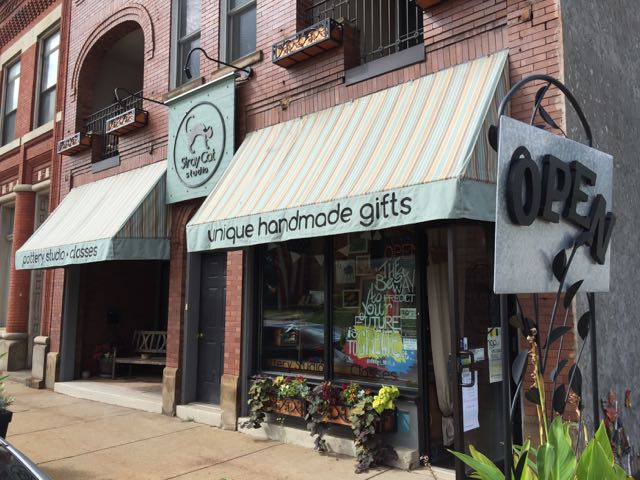 (Note: Instead of bogging down my blog with scads of large photos, I've uploaded them to my Flickr page for your viewing pleasure.)
For the second stop in my Exploring Beaver County blog series, I hopped on my bike and pedaled my way over the Beaver River, twice, to the City of Beaver Falls.
When I was a kid, this burg was booming. Whenever my sisters and I needed new shoes or a winter coat, we'd pack into my parents' International Scout, swing by Bridgewater to pick up my grandparents, and head over to Beaver Falls, which seemed like it had around a dozen shoe stores and I don't know how many independent clothiers. Of course, we'd always stop off at Eat'n Park first for a "bear claw".
Unfortunately, like many other Beaver County communities, Beaver Falls was hit hard by the one-two punch of the steel industry's decline and the rise of the shopping-mall era during the 1970s. Today only a couple shoe stores remain, and Eat'n Park…well, it's just a sweet memory.
That said, exciting things are happening in this city – a city that gave us Broadway Joe, the first-ever college basketball game (1893), and, last but not least, the setting for TV's Mr. Belvedere!
Crossing over the Beaver River from New Brighton to Beaver Falls, I couldn't help but think of the old McDonalds – the kind with the big yellow arches on each side of the building – that was razed when the new bridge was built. Too bad. (Anyone else remember that?) Then, as I passed the big brick home of Keystone Profiles Ltd. on my right, I thought to myself, It's nice to see manufacturing still taking place here in the county. I also thought, What the heck are "precision cold drawn products"?
Next I rode by Beaver County Fruit and Garden Center, where not only can you choose from a generous selection of fresh fruits and veggies, but you can also pick up juice for your home wine-making, if you're so inclined. (And I am.)
Just ahead on the left, you'll find Stray Cat Studio, one of the coolest spots in the new Beaver Falls. When you first walk inside Stray Cat, you can't help but be blown away by their impressive Artisan Gift Shop, which features handmade art and gifts from more than artists, all from Western PA. On the other side of the shop you'll find their Pottery Studio, which features five potter's wheels and is open to professionals and students alike. Here they host pottery classes and even pottery parties for people interested in the craft or just looking for a fun night out with friends. Stray Cat is also a stop on the Autumn Splendor Arts Tour, a month-long celebration of art and creativity that takes place in October throughout Beaver and Lawrence counties.
To me, Stray Cat Studio represents the future of Beaver Falls. It's hip. It's artsy. It takes advantage of the amazing art and talent we have right here in Beaver County and gives these artists a unique venue in which to show and sell their wares. The quote in their front window says it all: "The best way to predict your future is to create it." – Abraham Lincoln
Shifting down – way down – I huffed and puffed my way up Seventh Avenue hill to one of my favorite antique stores in the region – This & That Downtown. Formerly located up on College Hill at the other end of town, This & That moved downtown a few years ago and has really done a great job of stocking their store with tons of unique treasures for treasure hunters like yours truly. A couple years ago I stumbled upon a mint condition, circa 1950s Smith-Corona Clipper typewriter here. Score!
If you can't find something cool at This & That, don't worry. Just across the street you'll find The Antique Emporium, an antique store on steroids, with three floors and over 100,000 items in stock. And, just a few blocks up Seventh Avenue, Vintage Reborn is where you can find a whole store full of repurposed vintage and antique items.
I love that Beaver Falls has some of the coolest antique and vintage places around. These are the kinds of towns my wife and I look for when we're on the road, and I know we're not the only ones. Thanks to shows like American Pickers and Pawn Stars, there's a whole new subculture of modern-day treasure hunters who travel the U.S. looking for towns just like this.
Continuing down Beaver Falls' main drag, I passed by even more positive signs of growth and change, like Hutch & Home, Beaver Brewing Company, Song-Thai, and Chong's Korean Cuisine. Of course, I was also tempted – very tempted – to stop at the Beaver Falls landmark, Oram's Old Fashioned Donuts, for one of their legendary cinnamon rolls. But I couldn't figure out how I would hold the monstrous pastry and steer my bike at the same time.
After a breathtaking – literally, I couldn't breathe – climb up College Hill, I passed by my dad's alma mater, Geneva College, before rewarding myself with a rest and a killer cup of joe from Beaver Falls Coffee & Tea Company.
Finally, on my way back home, I swung by the epic Carnegie Free Library. This architectural gem is one of the coolest libraries you'll ever visit, and it's a huge asset to the Beaver Falls community. Right now they're working hard to make this place into a comprehensive community center and resource that will serve as the anchor for the city's ongoing transformation and renaissance. (On Saturday, Oct. 22, I'll actually be here to take part in "A Novel Affair", a fund-raiser for the library featuring local authors, libations, appetizers, and live music! Come out and join us! The party starts at 7 p.m. $25 donation at the door.)
If I had to choose one word to best describe Beaver Falls, it would be POTENTIAL! There are so many young people out there today who want all the culture and convenience that comes with urban living. They want fixer-upper housing with lots of old-fashioned charm and character. They want walkable communities, cool vintage shops, and diverse eateries and cafes. This is what you'll find in Beaver Falls. It just takes a few seeds for the growth to take hold, and then it will spread from one storefront to storefront, from one home to the next. Luckily for us, the seeds have already been sown.
I can't wait to see what the future holds for this proud and historic Beaver County town!
Beaver Falls Must-Sees!
(Note: Instead of bogging down my blog with scads of large photos, I've uploaded them to my Flickr page for your viewing pleasure.)