Disney Crusin' — Where's the Heat?
by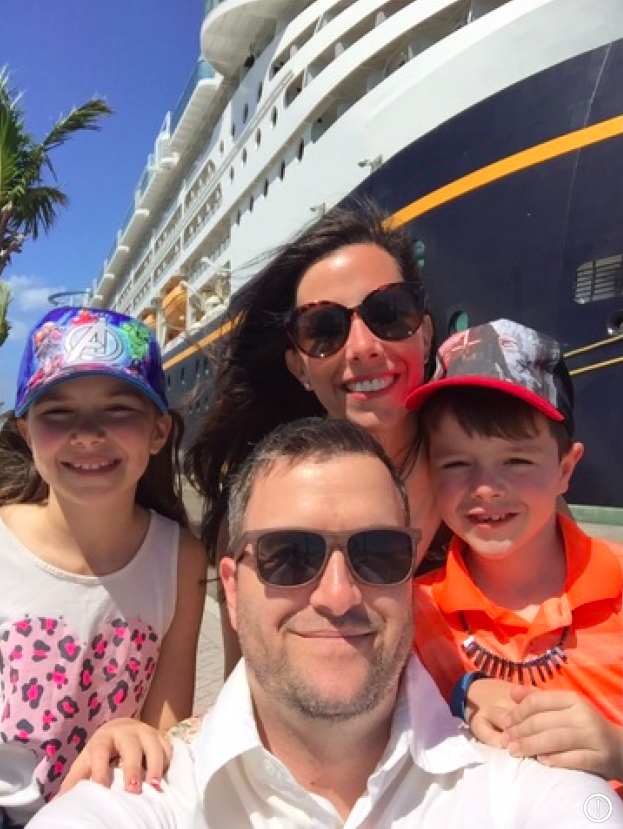 Warmth. That's all I wanted from my vacation.
Sure, as winters go, this one's been relatively mild. But when you live in an old house like mine — one with zero insulation, and in which you have to wear a tossle cap and at least three layers of wool daily beginning in November — come March you'd give your first born just to be warm again, even lukewarm, if only for a few days.
And that's just what I was hoping for and fully expected as we joined my parents and in-laws for our first-ever Disney Cruise the first week of March. The plan was to fly down to sunny, warm Miami on Friday evening, stay the night, and then shove off the next day.
From the time we left our house Friday afternoon until we were actually on board the Disney Magic cruise ship in the Port of Miami, nearly 24 hours had passed. I don't want to get into all that cliched talk about how terrible flying is. But it really is awful. Luckily Southwest makes a decent Bloody Mary.
In the months leading up to our Disney Cruise, I kept hearing from everyone how "magical" they are and how they're so much better than any other cruise line. I've been on three previous cruises with Royal Caribbean, and they were all pretty spectacular, so I was anxious to see what magic Disney would pull out of its hat. And honestly I totally expected it, considering how wonderful our Disney World trip had been just three years earlier.
When we finally stepped on board the ship (emphasis on finally), we were immediately greeted by six crew members. "Disney Magic welcomes…the Brkich family!" announced the one with the British accent holding the microphone. Meanwhile the other less-than-enthusiastic members smiled and clapped half-heartedly. Look, I get it. It must be pretty tiresome to stand there for hours and welcome each and every one of the hundreds of families boarding the ship. But personally I took this lackluster welcome as an bad omen.
I was really looking forward to leaving my cell phone in my stateroom for the week and getting a much-needed break from it. Unfortunately, nowadays even on cruise ships cell phones have become a mandatory part of the experience. So for the first hour or so, while we waited for our rooms to be ready, we sat in one of the common areas trying to figure out how to use the Disney Cruise app and connect to the wi-fi. We were told to make sure our phones were in airplane mode with the wi-fi turned on so that we wouldn't incur roaming charges. This, of course, kept my dad thoroughly confused. He kept saying, "How can we connect to the wi-fi if it's on airplane mode? I thought that's why we put it on airplane mode on the airplane, so it won't connect to wi-fi?" Later on at dinner, he was also puzzled and mesmerized at how the servers managed to leave only the tip of the straw wrapper on the straws in the kids' drinks. Did I mention he worked as a computer programmer for more than 30 years?
We spent that first afternoon settling into our rooms, exploring the ship, and stuffing our faces with the "free" food that surrounds you at just about every turn. We also spent it shivering in the surprisingly cool Miami weather, where the temperature barely reached 70 degrees. That is, when the wind wasn't blowing. When it was, it felt even cooler. By the way, in case you didn't know, the wind is always blowing on a cruise ship. Always.
The kids were ecstatic about the Oceaneer Youth Club, a kids-only area complete with crafts, games, and — to The Animal's delight — iPads and video games galore. This was also one of my favorite features of the ship, since it was where we could leave our kids for the day as we went off to eat and drink ourselves silly. And, believe me, we did.
That evening we gathered for our first official dinner and got to meet our wonderful servers for the week: Melroy, from India, and his assistant Marco, from Peru. Of course, for some reason I kept calling Melroy "Melrose" all week. (BTW, if you want to have a positive view of the world and understand the importance and value of cultural diversity, go on a cruise. The crew on our ship — as with most cruises — represented over 50 nationalities, all of whom are so friendly and work incredibly hard all week just to please you.) 
Following dinner we stopped for a drink at the ship's Irish pub before the first of our nightly evening shows. After drinking all day on deck and then more at dinner, we really needed a drink. Following the show, we were all pretty much pooped and hit the sack early, all anticipating our first port-of-call the next morning in beautiful Key West!
Which, of course, didn't happen. Turns out it was too windy and the seas too rough for the captain to get the ship safely into port. As soon as I heard the announcement coming over the speakers early in the morning, I knew what was up. The same thing happened to us years ago on our Alaskan cruise, when bad weather had prevented us from docking at Skagway. Now history was repeating itself and we wouldn't be stopping at the only port-of-call that interested me. Luckily we had plenty of babysitters and plenty of food and alcohol to keep us busy during the next two days at sea.
So while the kids were off in the kiddie area or — BRRR! — swimming and having fun on the ship's three-story waterslide, the rest of us adults found a nice, secluded spot off to the side where we could see the ocean and enjoy some ice-cold drinks while shivering inside our sweatshirts and beneath our blankets. No joke. I would've sat in one of the hot tubs, but they were packed to the gills with children trying to stay warm (and most likely peeing). So I decided against it.
During that afternoon we met a nice couple from Wexford, Pa., — Lindsay and Justin — whom we approached after seeing their Pittsburgh Penguins attire. Later on I booed at a guy wearing a Baltimore Ravens shirt. You can take the guy out of Pittsburgh, but you can't take the Pittsburgh out of the guy.
Sunday was more of the same, except this time we set up camp in the much more peaceful adults-only section of the main deck. Of course, when I decided to join my wife in the hot tub, it was already crammed with other couples who turned out to be Patriots and OSU fans. Just my luck.
Later on I struck up a conversation with Troy from Iowa, who was surprised to find out that we're planning a summer road trip to his home state this year. Not sure why he was surprised. I mean, who doesn't go to Iowa for vacation?
Monday my wife signed us up for a romantic dinner at the ship's exclusive Palo restaurant. This was actually a lovely experience, thanks in part to our extremely friendly and accommodating server, Sylvester from India. Although, despite the fact I told him I was from Pittsburgh, for the rest of the dinner he kept making references to me about Philadelphia and cheesesteaks. Also, he kept referring to me as "Señor."
Dinner was spectacular. I had a life-changing prime rib and Cassie enjoyed the super-fresh scallops. Plus, after my wife mentioned her Sicilian lineage, Sylvester kept bringing us extra Italian delicacies on the side. By the time dinner was over I was so full I couldn't imagine ever eating again. Skipping the evening show, I went back to my stateroom and vegged out in front of the tube. But of course, that's what cruises are all about: sloth and gluttony.
Anyone who's ever been on a cruise, or maybe to Vegas, knows that by the third day your body pretty much starts to revolt against you. After all, it wasn't meant to spend multiple consecutive days eating nothing but three-egg everything omelets, bacon, pizza, french fries, and red meat of every shape and kind, all the while washing it down with way too many beers and margaritas. So by the time we docked at Castaway Cay — Disney's private island in the Bahamas — my stomach was a disaster. So of course I spent the day lounging on the beach, overindulging in BBQ and burgers and multiple — as Jimmy Buffet might say — boat drinks. Luckily it was markedly warmer outside, at least when the sun wasn't being blocked out by clouds. Good thing I brought my hoodie. Did I mention we were in the Bahamas—ON A BEACH?! 
That evening at dinner we were all recapping the day and enjoying some nice red wine when my dad turned and asked a server from Mumbai whether he "dreamed in English or Indian." [Sigh.]
I never really slept well on the boat. Our inside cabin, although dark and cool as a cave, constantly creaked and kept making a strange dripping sound, which, as you might imagine, is somewhat unnerving when you're floating on a city-sized hunk of steel out in the middle of the ocean. I'm sure my restlessness had nothing to do with my diet or complete lack of physical movement during our five days aboard.
Tuesday morning we docked in Nassau for the day. Before we could disembark, however, we had to first make a stop at the ship's health center so they could take a look at my son's aching ears. Turns out he had an ear infection, which we pretty much already knew. So we paid them $200 for the exam and some ear drops that ended up giving him a rash due to an allergic reaction.
I've never been a big fan of going onshore at the Caribbean ports-of-call. The native merchants hound you from the moment you step off the boat and don't seem to comprehend the concept of browsing. At one point we stopped to watch a talented local craftsman carving beautiful works of art out of wood using nothing but a knife and a chisel. As I stepped back to take a photo of the kids standing amongst the art, I glanced down and noticed some of the woodcarver's…well…let's just say more adult-themed pieces, and therefore decided against memorializing the moment on film.
My son had brought $20 from his piggy bank at home was intent on buying either a wooden sword or a necklace. But when we approached one vendor and asked about a particular wooden saber, she told us it was $25, which I thought was a little too much to pay for something my son would most likely end up injuring me with. Plus there were a bunch of decorative marijuana pipes lying right next to it, and really I didn't feel like having that conversation with my kids right then and there. So we moved on. Moments later one of the locals offered me some "rock."
I can't believe I wanted to stay on the ship and miss out on this family-friendly experience.
At our final stop, as I was waiting in line to purchase my son's necklace, the older gentleman in front of me began to sway and then fell face-first to the floor. His wife immediately dropped to his side, panicked as she called out for someone to help. As I attempted to attend to the man with the practical skills I gained years ago earning my English degree, the compassionate vacationers behind us became obviously annoyed at the disruption of their shopping experience and asked the cashier if they could still purchase their souvenir t-shirts. When I asked the cashier to call for help, she too appeared annoyed and moved at a turtle's pace. So I ran outside and flagged down a police officer who — see if you can guess — seemed annoyed that I was bothering him and reluctantly followed me back to the store.
Fortunately the poor man was all right and just a little dehydrated. After that we quickly retreated back to the somewhat civilized confines of the ship.
During our way back on board, we spotted Captain America and my daughter ran to get a photo with him. He even signed her Avengers hat, which pretty much made her day. With her being on the precipice of adolescence, all I kept thinking was thank God she's still into that stuff.
The rest of the afternoon — SURPRISE! — we just sat around on deck eating and drinking while the kids swam and went off to the play area. By dinnertime we were pulling out of port and on our way back toward Miami.
I won't bore you with all the mundane details of disembarking the ship the next morning. But for those of you who've never had the pleasure, imagine your typical airport security experience. Only not as enjoyable.
Believe it or not, despite the slight sarcasm you may have picked up on in my recap, overall it was a wonderful and memorable vacation. Sure, it would've been nice if it had been 10, maybe 20 degrees warmer. And personally I would've loved to have experienced Key West. But the service on the ship was top-notch, the food was delicious, and the kids had an absolute blast. And that's good enough for me.
Was it "magical"? Eh. I'm not sure I'd go that far. Although, the crew did manage to keep The Animal pretty much under control the entire time, and without the use of shackles or a taser gun. And that's no easy task.
Don't I know it. ~
_____
Copyright © 2017 Valentine J. Brkich