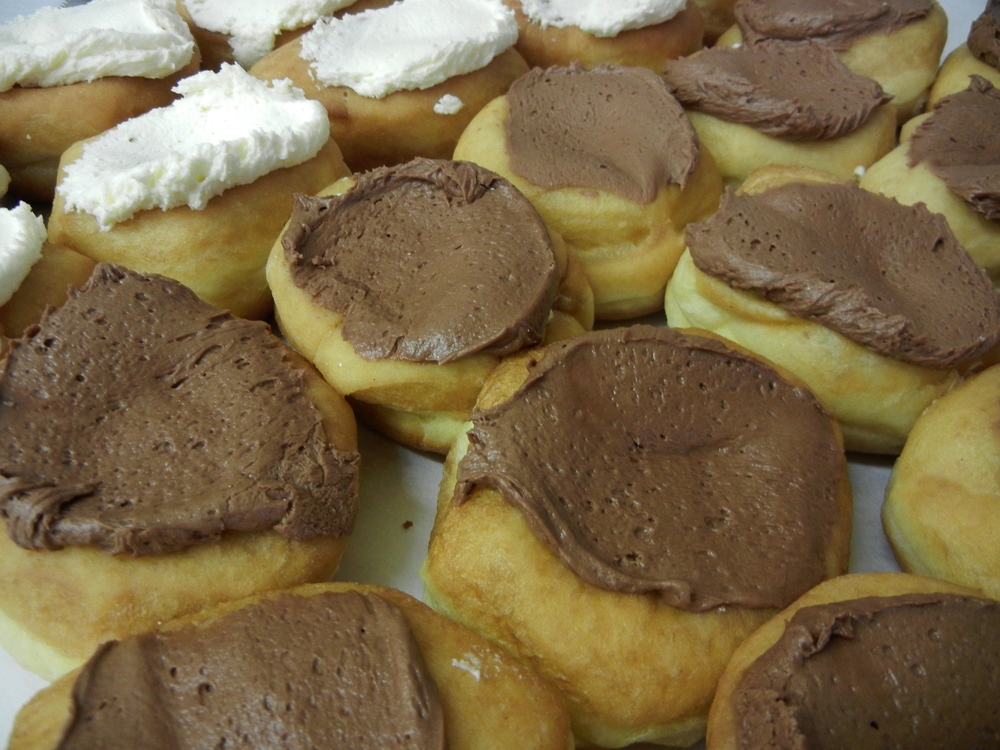 So my dad calls me on Thursday evening.
"I'm going to get some Oram's cinnamon rolls tomorrow morning," he says. "You want me to get you some?"
Every once in a while my dad drives to Beaver Falls early in the morning to pick up a box of Oram's legendary pastries, which he then passes out to his poker buddies during his daily trip to the local casino.
I've been trying to eat a little healthier as of late, so I politely decline the offer. "I'll will take a couple chocolate topped, cream filled donuts though."
Com'on—it's free Oram's. I mean, I'm only human.
Later that night I tell my dad I'll be leaving for my daughter's soccer tournament at 7:30 a.m. sharp the following day, just so he makes sure to get us the donuts on time. It's 8:10 a.m. the next morning when my dad calls again.
"You home?" he says. "I got your donuts."
"Sorry," I reply. "I told you we'd be leaving at 7:30, remember?. We're already on the road."
Through the phone I can hear one of my dad's characteristic sighs. "Well," he says. "I guess I'll just take them back home then."
I tell him we'll be home around noon the next day, and that I'll pick up the donuts then. Well, the next day our schedule changes, and we don't make it home by noon as planned. But right at the stroke of noon, my phone rings.
"You home? I was gonna bring your donuts down."
I tell him we aren't. "Just leave them on the front porch on your way through town."
Plans change again later that day, however, and instead of coming home, we end up staying at my daughter's tournament. Around 6 p.m., my dad calls again. 
"You get your donuts?"
"Um…actually, we decided to stay here another night so she could play in the playoff game tomorrow."
"But I left them on your porch!" my dad says, exasperated. Again, another sigh. "I'll just drive down and get them."
"They're fine, Dad! Just leave them! I mean, they're in a box, right?"
"Yeah, but you just can't leave donuts outside. The animals will get to them!"
"Dad…I live in downtown Beaver. It's not like we have black bears roaming the streets, scavenging for food. The donuts will be fine."
"I'm just going to go get them."
"Look," I tell him, "I'll call my neighbor and tell him to hold them for us. OK?"
"You promise?"
"Yes, Dad. I'll talk to you tomorrow. G'night."
"OK. G'night. Make sure you call him."
"Relax, Dad. I will."
Of course, I know my neighbor is away for the week on vacation. But I'm sure the donuts will be just fine where they are.
The next morning is Father's Day. Shortly after waking up, I get a text from my dad. I'm thinking it might be something sentimental. Instead it reads more like a ransom note: "I have your donuts." 
Apparently he had driven down that morning to see if the donuts were still there, which, of course, they were.
That evening we invite my dad down to my in-laws for dinner, and we are sitting outside when he pulls up, parks his car, and then walks up to the house, a box of Oram's donuts in his hands.
Now, remember, I told him to get me "a couple" of donuts. Inside the box there's a half dozen.
"Of course," he says with a sigh, "they're all stale now."
And they are. But they're still Oram's. And they are oh-so worth the wait. ~
_____
If you'd like to subscribe to my blog, please enter your email in the space at the bottom of the page. Thanks!
Copyright © 2019 Valentine J. Brkich