The 2016 Erma Bombeck Writers Workshop
by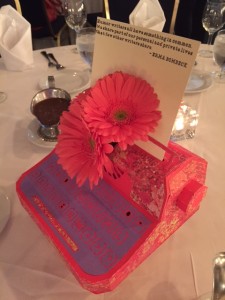 So here I am again, back in Dayton for the bi-annual (or is it bi-ennial?) Erma Bombeck Writers Workshop. I love this conference! Every two years I get to get away from it all for a few days, be surrounded by fellow writers, and, most important, have an entire king-sized bed to myself.
This year instead of waiting until the conference is over to try to put together a recap amidst the chaos of normal everyday life, I decided to do a little mini recap every night after a few glasses of Cabernet. Though I can't promise it will be my best, funniest writing, I can promise it will be honest and uninhibited. (Although I'm not sure that's a good thing.)
So here goes…
My first stop today was Xavier University in Cincinnati, where I finally got to meet Richard Polt, aka Mr. Typewriter, in person, view his impressive collection of vintage typers, and actually donate a couple machines from my personal collection for a local non-profit.  I was thinking to myself, This is awesome! and, simultaneously, A typewriter pilgrimage–this is what my life has come to?
At the Dayton Marriott, while mingling at the networking reception, I met a woman who not only had "The World's Largest Hoe Collection" but also postcards to help spread the word.
Just because someone is from Seattle doesn't mean they've had a Bigfoot encounter. Lesson learned.
It was nice to have my fellow Beaver Countian, Linda Au, to hang out with during the networking reception so I didn't have to actually network with anyone. Whew!
When it came time for dinner, I pushed my way into the dining room to get a seat at a table first, so that I didn't have to go through the awkward experience of asking someone if you could sit at their table. (That's a trick only us Erma veterans know.)
The centerpiece of our dinner table was a pink cardboard Royal Aristocrat typewriter. Talk about a good omen!
"Humor is important work." – Patricia Wynn Brown
I heard two mentions of "Please Don't Eat the Daisies" today, and heard Weird Al's "Oh, Ricky!" after musing about it yesterday while listening to Toni Basil's "Oh, Mickey!" on the radio. Two more coincidences. Yep, I'm on the right path.
This is THE PERFECT writers conference for me, because it's 99% women and the testosterone level is almost zero, except for in the bar, where one loud, obnoxious middle-age male, who was more orange (oranger?) than Donald Trump, couldn't stop spouting the F word over and over during his boorish story about how he once paid a girl $150 to "make out with him" at a night club because she was with some "pretty boy" instead of a "real man" like himself. Ugh.
There's no better way to end a wonderful day like this than with a nice glass of red wine and the two-hour season premiere of "Finding Bigfoot" on the tube.
Can't wait for tomorrow. Stay tuned….
____
Copyright 2016 Valentine J. Brkich